To Evangelicals, Zionism an Increasingly Tough Sell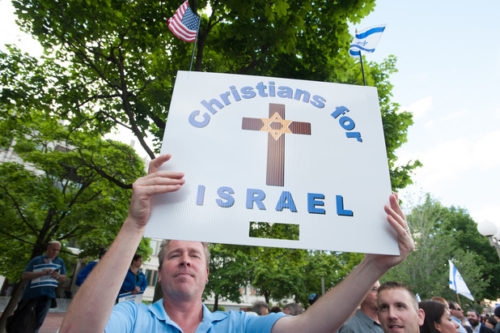 WHILE THE LOBBY giant AIPAC wields power in Washington, evangelical Christians have long been the grassroots base of Israel advocacy in the US. But that support is eroding. (ILLUSTRATION: A recent poll found a major shift away from evangelical support for Israel.)
According to a National Association of Evangelicals poll, forty percent of US evangelical leaders have changed their thinking about Israel over the past fifteen years.
The most common change? "A greater awareness of the struggles faced by the Palestinian people," the survey concludes.
"One of the most important developments is that Christian voices are coming out of Palestine," said Munther Isaac, Vice Academic Dean of Bethlehem Bible College in the occupied West Bank. "They are challenging evangelicals to be in conversation with them."
"We're seeing that with younger evangelicals, there is an openness because they're very much interested in social justice issues," Isaac told The Electronic Intifada. "They want to make a difference and they want to see their faith put in action."
Isaac directs the biannual Christ at the Checkpoint Conference in Bethlehem. While other Palestinian Christian groups like Sabeel have been successful in reaching mostly mainline churches that tend to be more liberal, the Bethlehem conference specifically targets evangelicals.
Megan Giesecke of Dallas, Texas, was a student at Wheaton College — one of the US' foremost evangelical schools — when she attended Christ at the Checkpoint in 2012.
"Once in Palestine, I was shocked to visit Hebron with its road closures and boarded-up shops," Giesecke said. "Right after seeing Hebron, our group met with an ideological settler from the US who told us proudly that he had a right to the land and was helping to stake the Jews' claim."
After experiencing Palestine firsthand, Giesecke told The Electronic Intifada, "You become aware that supporting Zionism, especially in its current military oppression, is no longer an option. And it is certainly a difficult ideology to justify by anyone who claims to follow a God of love."
And yet Christians United for Israel (CUFI) — the largest Zionist organization in the United States, boasting a mailing list of more than two million subscribers — is attempting to justify Israel's oppression to a justice-minded generation.
* * *
Source: Read the rest of the story at Electronic Intifada