The Jews Who Opposed Boycotting National Socialist Germany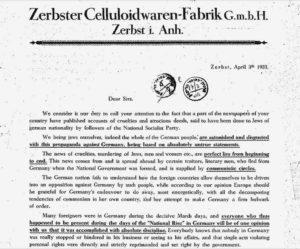 CALLS FOR sanctions were resisted by German Jews and many in pre-state Israel. Newly uncovered documents reveal the passions and arguments surrounding the controversy. (ILLUSTRATION: A letter from German-Jewish businessmen defending Germany, dated April 3, 1933.)
"We being Jews ourselves are astonished and disgusted with this propaganda against Germany, being based on absolutely untrue statements. The news of cruelties, murdering of Jews, men and women, etc., are perfect lies from beginning to end. This news comes from and is spread abroad by certain traitors, literary men, who fled from Germany when the National Government was formed, and is supplied by communistic circles.
"The German nation fails to understand how the foreign countries allow themselves to be driven into an opposition against Germany by such people, while according to our opinion Europe should be grateful for Germany's endeavor to do away, most energetically, with all the decomposing tendencies of communism in her own country, and her attempt to make Germany a firm bulwark of order."
This rare Jewish defense of National Socialist Germany was in a letter sent by Hermann Wachtel, the owner of a German fabric company, on April 3, 1933, two months after Adolf Hitler was named German chancellor. In his letter, Wachtel called on officials in the Jewish community in Palestine, as well as Jewish organizations abroad, to drop their efforts to organize an economic boycott of National Socialist Germany following Hitler's rise to power and reports of persecution of German Jews.
"We would be grateful if you would do everything you can to stop the defamatory assault on Germany, to help to prevent the boycott of German products, and to see to it that the press in your country does not publish distorted reports on events in Germany," implored Wachtel in his defense of Hitler.
The letter, which has only recently been made public, was written to Erich Ney, a German-Zionist businessman who had immigrated to Palestine in the 1920s and cultivated close ties with dozens of German companies, mostly in the textile and fabric industry.
Then, as now, German products were highly regarded around the world and were in major demand in the Jewish community of Mandatory Palestine, too – during a period when the pre-state economy had begun to develop here. The Bayer pharmaceutical firm and Agfa, the camera company, were among the companies popular in the Yishuv, as the Jewish community of Palestine was known.
Within a few years, Ney had become a major importer of goods from German firms and a prominent Tel Aviv business figure. When Hitler came to power, however, he decided to promote a boycott of German products, despite the hefty income he had derived from his business dealings with Germany. The letter Ney received from Wachtel was but one of dozens he received in April 1933 from owners of German companies, all concerned about damage to their businesses as a result of an anti-German boycott by Jews. Ney was sent the letter after he contacted his German clients to express concern over the harassment of German-Jewish business owners.
The letters, translated from German with the assistance of a staff member at the Jewish Museum, Berlin, were recently transferred to the Massuah Institute for the Study of the Holocaust at Kibbutz Tel Yitzhak, near Netanya, with the involvement of Ney's daughter, Ruth Peled, and the Association of Israelis of Central European Origin, of which Ney was a member. Peled, a noted psychotherapist who was also a sculptor and author, died last year at age 84. The Massuah Institute maintains a major Holocaust archive, with much of its content available online.
False propaganda
The German firms contacted Ney following a boycott of German-Jewish businesses that the National Socialists organized for April 1, 1933, which in turn spurred greater efforts by Jewish communities not only in Palestine but also in the United States, Poland, and even Egypt and Morocco, to boycott German products. Dozens of letters sent to Ney contained denials that Jews were being harassed, calling the allegations false propaganda being spread by Jews outside of Germany. The German business people also assured Ney they were not anti-Semitic and were determined to maintain good relations with Jews.
A number of the letters were also marked by a sense of urgency. The owner of a Berlin textile company, for example, wrote the following to Ney on April 4: "Since the boycott [against Jews] in Germany has in the meantime been halted and will not continue, we hope the Jews who are acting responsibly in Palestine, and who we are happy to see are not agreeing to a boycott of German products, will calm down."
In Palestine, the calls for an economic boycott of Germany began a few days after Hitler was sworn in as chancellor on January 30, 1933. The first discussion of the issue by the Jewish community leadership in Palestine took place the following month, says historian Yoav Gelber, emeritus professor at the University of Haifa and the Interdisciplinary Center in Herzliya, and head of the Herzl Institute for the Study of Zionism and History.
Following the National Socialist-organized boycott of Jewish businesses on April 1, posters began to appear in the Yishuv opposing the purchase of German products. The effort here pushed the heads of Jewish communities in other countries to follow suit, including the wealthiest and most influential of them all – the American-Jewish community.
As early as March 1933, with initial reports of harassment of German Jews, representatives of the U.S.-Jewish Congress met in New York for an emergency meeting and decided to launch a protest campaign, including demonstrations in 70 cities and a main rally at Madison Square Garden.
In addition to support for a boycott, there were those who expressed opposition to such a move, among them Judge Irving Lehman. He voiced concern that the campaign would escalate the situation, resulting in additional harm to German Jews. He cautioned that advocates of a boycott not let their anger at the National Socialists lead to the death of German Jews. In his case, however, his opposition may have also been motivated by the interests of his family's business – Lehman Brothers investment bank, which was one of a number of U.S. banks that did business with Hitler's Germany (75 years before the bank collapsed in the global economic crisis of 2008).
While the National Socialist boycott of Jewish businesses was one of the many preludes to the destruction of the Jews, the boycott directed against National Socialist Germany fizzled for a number of reasons – including the obstacles placed in the way by the Zionist establishment due to controversial transfer agreements that the Jewish Agency signed in May 1933 with the National Socialist government. The agreements were designed to salvage the property of German Jews and transfer it to Palestine, along with the immigration of the Jews themselves.
Ideological divide
Although the Jews had difficulty getting their money out of National Socialist Germany, under this arrangement they were permitted to deposit funds in German banks. The funds were used by importers in Palestine to buy German goods that were then sold to others. When the German Jews arrived in Palestine, they got most of their money back, but the arrangement also spurred demand for German products here…