Puerto Ricans Who Can't Speak English Qualify as Disabled for Social Security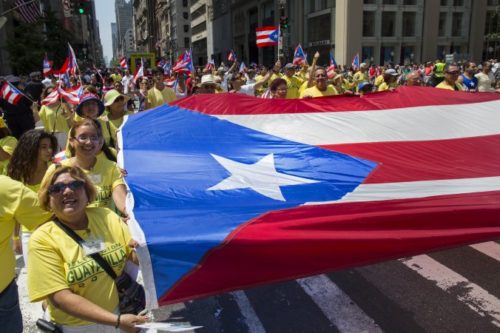 HUNDREDS OF Puerto Rico's residents qualified for federal disability benefits in recent years because they lacked fluency in English, according to government auditors. (ILLUSTRATION: Display of Puerto Rican flag in the National Puerto Rican Day Parade in New York)
The Social Security Administration's inspector general questioned the policy this month in light of the fact that Spanish is the predominant language in the U.S. territory.
Under Social Security regulations, individuals are considered less employable in the United States if they can't speak English, regardless of their work experience or level of education.
In a report this month, the independent watchdog suggested that a more appropriate standard might be to consider local conditions when making benefits decisions.
According to the latest U.S. Census Bureau data, 95 percent of Puerto Rico residents above age 5 speak Spanish at home, and about 84 percent say they do not speak English "very well."
The inspector general noted that a nurse in Puerto Rico who speaks only Spanish could be considered "unskilled" under current Social Security standards.
"A claimant's inability to communicate in English can lessen the relevance of work experience and education, potentially making it more likely the claimant will receive disability benefits," the report said.
Auditors identified 218 cases between 2011 and 2013 in which the the Social Security Administration granted disability status to Puerto Rico residents because of the existing guidelines.
The inspector general recommended that the agency evaluate whether the rules are appropriate and determine the number of beneficiaries who have received disability status based on their inability to communicate in English.
The Social Security Administration agreed with the proposals and said it is making preparations for a potential rule change, including by gathering research and taking input from federal experts and the public.
* * *
Source: Washington Post