Jews Sue Two New York State Villages for Resisting Hasidic Takeover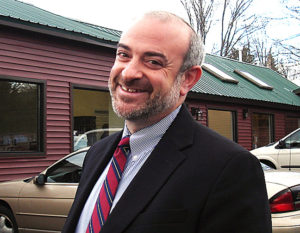 Ballot-box stuffing and questionable real estate deals destroy the quality of life for upstate New Yorkers — now they're accused of "anti-Semitism" for resisting.

THE DECEPTION and alleged attempted voter fraud just wasn't enough.
Now the so-called hasidic "community" of Bloomingburg, New York — a tiny number of people who have lived in the 420-person village for less than six months — have filed a civil rights lawsuit against the village and neighboring Town of Mamakating, alleging "anti-Semitism reminiscent of racial discrimination in the South generations ago," JP Updates reported.
"Just 75 miles north of New York City, public officials are engaged in a shocking campaign of anti-Semitism reminiscent of racial discrimination in the South generations ago.…They are abusing their authority to erect roadblocks to stop Hasidic Jews from buying houses, establishing a private school, and operating businesses in their community," the 66-page lawsuit reportedly reads.
Modern Orthodox developer Shalom Lamm (pictured) has repeatedly ignored stop work orders issued against buildings being built or remodeled for what Satmar has advertised as a new Satmar-only hasidic village called Kiryas Yated Lev. That new hasidic village is essentially made up of most of the village of Bloomingburg.
Lamm allegedly used a front man to pitch a low density retirement and vacation home complex complete with a golf course. When that was approved, it morphed quickly into a high density 396-unit townhouse development with no golf course. And that quickly turned out to be Kiryas Yated Lev.
Hasidim have used older Lamm-owned buildings in Bloomingburg without certificates of occupancy for makeshift synagogues and mikvas, ignoring fire and safety code, as well.
The conflict between the village and the Town of Mamakating, on one hand, and Lamm and the hasidim on the other has been marked by Lamm and the hasidim accusing their opponents of anti-Semitism, even though some of those opponents are Jews and even though evidence of anti-Semitism is scarce.
A person from outside Bloomingburg and Mamakating allegedly broke storefront windows belonging to Lamm and one protester (also from out of the immediate area) behaved poorly on election day this spring.
But Lamm, his family and almost 100 hasidim did try to vote in Bloomingburg, even though none of them really had legal residency there. The votes were later thrown out by the Board of Elections.
Lamm's daughter and son-in-law, who live and work full time in Israel and who have never lived in Bloomingburg, were among those trying to vote. For his part, Lamm claimed in an unrelated court filing in December that legal residence is in West Hempstead, New York — many miles away from Bloomingburg. More than 20 adults, most apparently hasidim, all claimed one Lamm-owned private home as their legal residence and also tried to vote.
In March, the FBI raided Lamm's Bloomingburg office as well as several properties he owns in the village, and he believed to be under criminal investigation.
The Satmar lawsuit filed today also accuses town and village officials of engaging "in a civil rights conspiracy to prevent Hasidic people from moving into Bloomingburg and to prevent them from opening institutions to support their growing community…and repeatedly issued stop work orders and imposed innumerable, frivolous demands upon Jewish-owned businesses."
The lawsuit demands compensation of $25 million for what it claims is the loss of fair housing and the restraint of free exercise of their religion, the restraint of their freedom of association, and for legal expenses related to the suit.
Ironically, the Yiddish-only ads run in the Satmar-controlled Der Yid newspaper advertising Lamm's development as a new Satmar-only hasidic "shtetl" (village) called "Kiryas Yated Lev are themselves violations of US Fair Housing law, according to an expert contacted by FailedMessiah.com several months ago.
Bloomingburg started a process last month that would dissolve the tiny village and fold it into Mamakating. The stated reason for doing so is the difficulty the tiny village faces in dealing with such a large, high density development. The purpose of the hasidic lawsuit is likely in part meant to prevent that dissolution from taking place, because if it would take place, that would likely prevent Satmar from taking over local government.
Bloomberg also reports on this conspiracy:
…Opposition to the project is so strong that Bloomingburg, the village in the Catskills, is considering dissolving its local government, which could allow the larger surrounding town to block the development. Voters will decide Sept. 30 whether to fold their municipal government into the Town of Mamakating, whose population is 30 times larger. …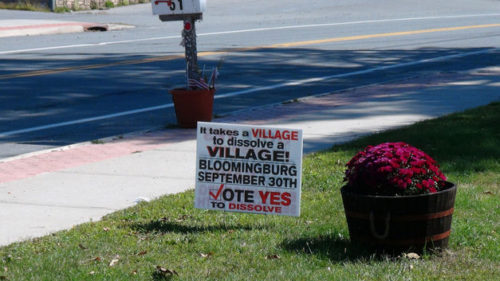 "I want the village to be like it was eight years ago when I moved up here," said Mayor Frank Gerardi, who signed a petition calling for the dissolution. "It was a quiet place, a nice little town. Now everything has changed. There's hustle and bustle, a lot of housing changes."
Bloomingburg, home to about 420 residents 78 miles (126 kilometers) northwest of Manhattan, sits in the farthest reaches of a culture war raging in New York City's exurbs as the largest Hasidic community outside of Israel leaves gentrifying Brooklyn in search of lower-cost housing. The fight has increasingly entangled state agencies and Governor Andrew Cuomo, a 56-year-old Democrat facing re-election in November. …
The townhouse project started in 2006, when Bloomingburg annexed 198 acres from Mamakating. In 2008, the village adopted a zoning law to accommodate the development, and approved the final plans in 2011. In March of this year, Gerardi, an opponent of the project, ousted the former mayor who supported it, setting up the current battle.
Lamm has already built about 50 of the two-story townhouses. He's also purchased most storefronts in the village, where he's planning a kosher bakery, a hardware store and a private Jewish school. …
"It's obvious it would be a voter bloc and they'd have all the power in electing the next mayor," Bechtold said. The dissolution "will stop decisions made on their political curve rather than what's best for the village."
Hasidim, meaning "pious ones" in Hebrew, are part of a movement within Orthodox Judaism that was founded by Eastern European mystics in the 18th century. In the U.S., they live in insular communities, often speak Yiddish and seek to maintain the lifestyles of their European ancestors.
Their customs can create friction with neighbors and political strife. A 20-foot cross has been erected adjacent to the townhouses, and the windows of village properties owned by Lamm were smashed on at least five occasions, according to his lawsuit. …
Opponents of the dissolution, including Jennifer O'Connell, who runs a barber shop in Bloomingburg, said it doesn't meet the goals of the consolidation program pushed by Cuomo because the savings would be limited.
The Laberge Group report says village residents could save $36.44 per $100,000 of assessed value annually from the consolidation. An estimated $610,000 state tax credit to Mamakating designed to encourage local governments to merge would raise the savings to as much as $140 per $100,000, the report said. The median monthly housing cost is $1,149, according to the U.S. Census. …
The case is Bloomingburg Jewish Education Center v. Village of Bloomingburg, New York, 14-cv-7250, U.S. District Court, Southern District of New York (White Plains.)
* * *
Sources: Failed Messiah and Bloomberg.com