France: Jews to Be Guarded; 107 Million Euros Used to "Fight Anti-Semitism"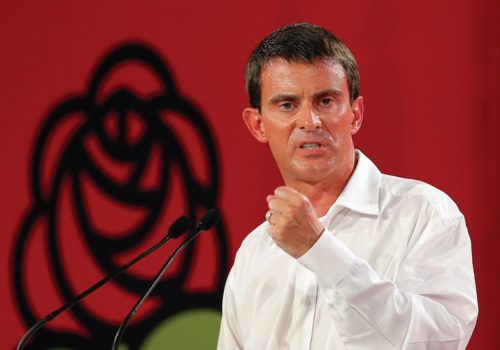 Huge taxpayer funds — and a "security force" of 4,700 — to be given to Jews in France.
FRANCE WILL invest 100 million Euros in a program meant to combat anti-Semitism in the country, Israel Radio reported on Friday. (ILLUSTRATION: French Prime Minister Manuel Valls)
Speaking during a visit to the Paris suburb of Creteil, French Prime Minister Manuel Valls announced that his government will strengthen laws against racism and anti-Semitism while warning that bigotry of all types has also increased in France.
"Racism, anti-Semitism, hatred of Muslims, of foreigners and homophobia are growing in an insufferable manner in our country."
Still despite this atmosphere and against the backdrop of violent incidents in the suburb and in the capital, including the brutal home invasion of a Jewish couple's home, and the rape of female resident, Walls took a hopeful tone, assuring France's two most visible minorities, it's Jewish and Muslim citizens, that they had nothing to fear.
Tensions in France, particularly in Paris, have hit new heights since 12 people, primarily cartoonists and editors for the satirical magazine Charlie Hebdo were killed by the al-Qaeda linked Kouachi brothers. The Cherif and Said Kouachi, French citizens of Algerian descent, allegedly trained in Yemen before returning to France and undertaking their shooting spree. The assault and subsequent manhunt lasted three days until the brothers were cornered and killed nineteen miles outside of Paris.
While the attack on Charlie Hebdo targeted a publication that often lampooned Islam's prophet, Muhammad, another attack by a radicalized French born national of Malian descent, Amedy Coulibali, targeted a Kosher supermarket. Coulibaly who claimed affiliation with the Islamic State group, killed 4 of the Jewish customers inside the Kosher shop, sparking a hostage situation that ended with a special forces raid and his shooting death.
In the aftermath of the attacks, French leaders have taken a more hardline tone regarding the vulnerability of their Jewish population. Valls had been outspoken in particular, telling Jewish citizens in January that "France without Jews is not France."
That month, shoring up security measures to meet such rhetoric, France had deployed some 10,000 to patrol communities throughout France, including 4,700 to guard Jewish schools and and institutions.
So far, at least one Jewish voice has come out in support of the effort. In an official statement, Barry Curtis-Lesher, the Chair of the US based Anti-Defamation League, lauded Valls for showing "exceptional leadership in forcefully denouncing anti-Semitism, and today he has taken an important next step by announcing a comprehensive strategy to confront it."
"While we await more details to fully understand all of the components of the proposed programs, the broad-based approach leaves no doubt about the government's commitment," Lesher added.
* * *
Source: Jerusalem Post