Baltimore Mayor Openly Admits to Protecting and Aiding Rioters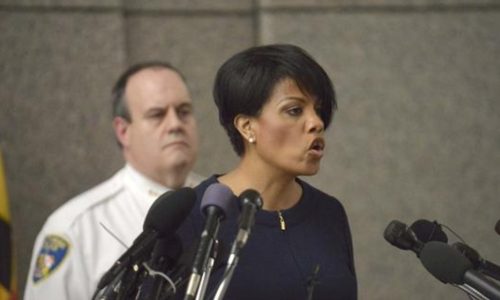 HUNDREDS OF young blacks smashed police cars, smashed store fronts, and brutally attacked random white pedestrians. Now, Baltimore Mayor Stephanie Rawlings-Blake has openly admitted to protecting and aiding the rioters. She says she ordered Baltimore police to stand down and let people riot.
Fast Forward to minute mark 7:30
"I worked with the police and instructed them to do everything that they could to make sure that the protesters we able to exercise their right to free speech. It's a very delicate balancing act. Because while we try to make sure that they were protected from the cars and the other things that were going on. We also gave those who wished to destroy, space to to do that as well." — Baltimore Mayor Stephanie Rawlings-Blake
This video shows some of the racially motivated violence directed at white people. Mayor Stephanie Rawlings-Blake ordered police to stand down and white victims had to fend for themselves.
https://www.youtube.com/watch?v=fR1gCfh7J1I
* * *
Source: Conservative Headlines