A Whole New Level of Hacking: "Cybercaliphate" Hijacks Entire French TV Network for Hours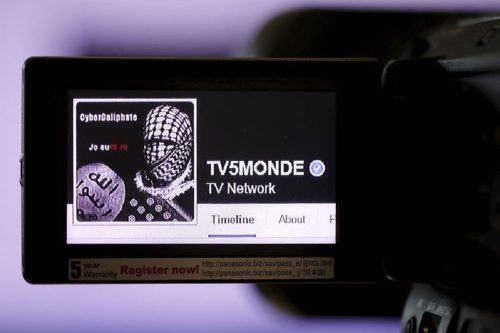 HACKERS CLAIMING allegiance to the Islamic State group simultaneously blacked out 11 channels of the French global TV network and took over its website and social media accounts overnight, in what appeared to be the most ambitious media attack so far by the extremist group.
Anti-terror prosecutors opened an investigation into the attack that temporarily blocked TV5 Monde from functioning. Operations have been fully re-established.
France's interior minister, while counseling caution until investigators find hard evidence, said the attack was likely a terrorist act. "Numerous elements converge to suggest the cause of this attack is, indeed, a terrorist act," Bernard Cazeneuve said at a news conference.
France is "absolutely determined to catch those who want to strike at its heart," the minister said.
The hackers briefly cut transmission of 11 channels belonging to TV5 Monde and took over its websites and social media accounts. The channel's director, Yves Bigot, said the attack continued into Thursday local time. However, the station was able to broadcast its 6pm live show, "64 Minutes."
The message on the TV5 Monde website read in part "I am IS" with a banner by a group that called itself Cybercaliphate.
Hackers operating under the name Cybercaliphate have carried out a string of attention-seeking attacks against media outlets – including several in the US – since late last year. Even though the hackers express support for Islamic State and routinely use the group's imagery in their attacks, it is difficult to know for sure whether they are genuine members, simple supporters or hackers with no link to IS. Experts who have followed Islamic State online communications say its supporters have regularly expressed interest in launching cyber-attacks at Western targets.
The Islamic State group has singled out France in the past for its role in the international coalition trying to defeat the extremists. In videos posted online, French-speaking IS fighters have urged their countrymen to travel to Syria and Iraq to join the militants, or to carry out attacks in France itself. This week's hack appears to confirm the group's intention and ability to target France and the West in different sectors.
Experts and a French official said the ability to black out a global television network represented a new level of sophistication for the group. French Culture Minister Fleur Pellerin warned other media outlets to be vigilant, saying another such attack cannot be excluded and may even be in the planning stages.
Bigot said he was shaken when he saw the black screen across the network's broadcasts "and when we discovered the meaning of the message appearing on our social media and our websites, it both allowed us to understand what was happening and obviously worried us."
Hackers claiming to work on behalf of the Islamic State have seized control of the Twitter accounts of other media, such as Newsweek, and in January they hacked into the Twitter page and YouTube site of the US military's Central Command.
TV5 Monde was founded by the French government in 1984 and calls itself the "worldwide French cultural channel." It broadcasts news and other programs produced in France, Belgium, Switzerland and Canada. Its Facebook page says its signal reaches more than 257 million homes in over 200 countries and territories.
* * *
Source: TVNZ