White U.S. Children Will Be a Minority by 2020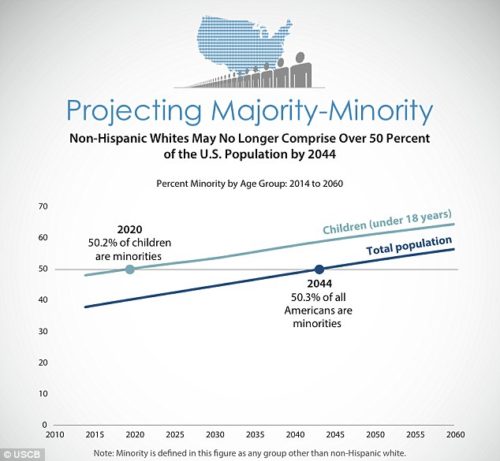 Deadline: In less than five years, minority children will outnumber white ones. In 14 years after that, more than half of all Americans will be minorities.
WHITE CHILDREN will be outnumbered by minority kids in the United States in just five years, new Census Bureau projections reveal. 
This is the result of an ongoing trend of declining birth among white Americans and a baby boom among immigrant groups, as well as a surge in immigration. 
By the year 2020, 50.2 percent of all children in the US are expected to be non-white, according to the Census. By 2044, whites will be outnumbered by minorities.
The Census study, released this week, predicts that by year 2060, nearly 20 percent of the population will be foreign born – thanks to an influx of 64 million new immigrants.
By year 2020, 50.2 percent of children will be minorities
By year 2033, Americans 65 years and older will outnumber children
By year 2044, 50.3 percent of all Americans will be minorities
The populations of Hispanics in the US will rise 114 percent — from 55 million in 2014 to 63.6 million in 2060 — making up about 29 percent of the population.
And the number of non-Hispanic whites will actually likely to decline over the next 40 years — from 200 million and 62 percent of the population now to 182 million and 44 percent of the population in 2060.
The number of people who identified themselves as only black will also decline about 8 percent to about 59 million.
The number of Asian-Americans will also increase dramatically — even more than the Hispanic population — rising 128 percent to 22 million…
Demographers estimate that by 2060, the population of the United States will increase by 98 million — from 319 million to 417 million people.
* * *
Read the full article: Daily Mail