We Told You So — Another Will Overturned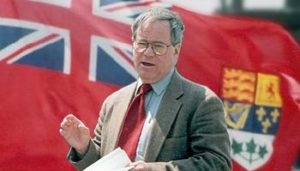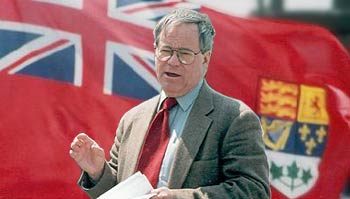 by Paul Fromm (pictured), Canadian Association for Free Expression (CAFE)

CAFE IS involved in a monumental legal battle to ensure that a will cannot be overturned because the deceased held politically incorrect views or gave a bequest to a politically incorrect group. The excuse being offered to nullify such wills is "public policy".
CAFE is an intervener in the McCorkill will case in New Brunswick. Robert McCorkill, a chemistry professor, left a bequest to the U.S.-based White nationalist National Alliance. In a stunning judgement, last June, Mr. Justice William Grant of the New Brunswick Court of Queen's Bench declared the aims of the National Alliance – a homeland for Whites — to be "contrary to public policy. He went even further declaring its publications criminal in Canada (contrary to Canada's notorious "hate law") even though there had been no such charge and, obviously, no defence offered).
His judgement puts in peril any bequest to a group or maybe even a person whose views are deemed to be "contrary to public policy."
Judge Grant found: "The purposes of the National Alliance and the activities and communication which it undertakes to promote its purposes are both illegal in Canada and New Brunswick. Consequently, I declare the residual bequest to it in the will of Harry McCorkill to be void."
The judge rejected arguments by CAFE's lawyer Andy Lodge that overturning the McCorkill bequest would lead to a flood of other such challenges to bequests to any group whose views might seem to be opposed to present government policy: "I, therefore, find that the voiding of a bequest based on the character of the beneficiary is, and will continue to be, an unusual remedy, where, as here, the beneficiary's raison d'etre is contrary to public policy, it is the appropriate remedy." In saying this, he faithfully echoed his government boss and the submission on behalf of the New Brunswick Attorney General that there might not be another such case in his working lifetime.
Well, less than a year later, here's another one. In brief, a Jamaican immigrant left his entire estate to one daughter and left nothing to a second daughter to whom he had once been close because she had had a child be a White man. A Newmarket judge, declaring the decision to cut out the miscegenating daughter "racist" and "contrary to public policy" rewrote the will and split the $400,000 50-50 between the two daughters. "Judge C.A. Gilmore overturned Jamaican-born Rector Emanuel (Eric) Spence's will, because he had disinherited a daughter who gave birth to a white man's child," the National Post (January 29, 2015) reported.
Michael Deveret, lawyer for the excluded daughter, exulted: "People should know that if you're going to make a will that discriminates on the basis of race or is contrary to public policy, beware the courts may not be willing to enforce it." (Toronto Sun, January 28, 2015)
Canadian courts have being overdosing on the idiot doctrines of non-discrimination and imposed "equality" for several decades. Taken literally, is this lawyer saying that a bequest to a German community group, if not matched with a bequest to a Negro group would be discriminating on the basis of race and, therefore, illegal.
"Even in death, you might not have the last word: especially if you're a bigot. When Eric Spence died two years ago, with no family by the curmudgeon's bedside, the Jamaican-born man left a last will and testament that disinherited the daughter he raised and left all his worldly belongings to the daughter he hadn't seen in more than 30 years.
'I specifically bequeath nothing to my daughter, Verolin Spence, as she has had no communication with me for several years and has shown no interest in me as her father,' the … 71-year-old Maple widower wrote in his will. But in reality, that wasn't the real reason he cut Verolin out of his will: He was angry that she had given birth to a white man's child. 'In about September 2002, my relationship with my father came crashing down,' recalled Verolin Spence, 51, in a court affidavit. 'That is the time when I told my father that I was pregnant. When he found out that the father of my child-to-be was white, my father told me that he was ashamed of me.' …
In a rare judgment released Tuesday, a Superior Court judge in Newmarket set aside Spence's will and divided his $400,000 estate equally between his two daughters. 'It is clear and uncontradicted, in my view, that the reason for disinheriting Verolin, as articulated by the deceased, was one based on a clearly stated racist principle,' ruled Justice C.A. Gilmore. 'Does it offend public policy that the deceased's other daughter, Donna, should receive the entire estate simply because her children were fathered by a black man? That, in my view, offends not only human sensibilities but also public policy.'
From the grave, he was determined to punish his daughter for stepping outside her race. … The judge cited last June's McCorkill decision where a judge voided the will of a New Brunswick man because leaving his possessions to an American neo-Nazi group violated 'public policy' and Canadian hate laws. .." WE TOLD YOU SO.
Is miscegenation (race mixing) now the preferred behaviour in Canada. Is it "public" policy? All choices involve "discrimination" In romance, Bill chooses Susan over Donna. If a man leaves all his money to, say, a Catholic charity, is he not discriminating against Moslem or Hindu or Anglican charities? Would such religious choice (some might label it 'discrimination') not be contrary to public policy? CAFE must win this battle and we'll need your considerable financial help.
The National Post (January 29, 2014) reported: "Suzana Popovic-Montag, a managing partner at Hull & Hull LLP in Toronto who specializes in estate and trust law, said this ruling may 'open the floodgates,' on similar challenges. 'We're imposing our personal feelings and emotions and morals on other peoples' decisions and that's where people aren't comfortable,' she said. Because Donna Spence has so far been unwilling to participate in the proceedings, it's unlikely the ruling will ever be challenged. 'That means we have binding precedent here in Ontario that says you can do this. The question is how are people going to use this?' Ms. Popovic-Montag asked."
* * *
Source: CAFE