Two Banks Fail US Fed Stress Tests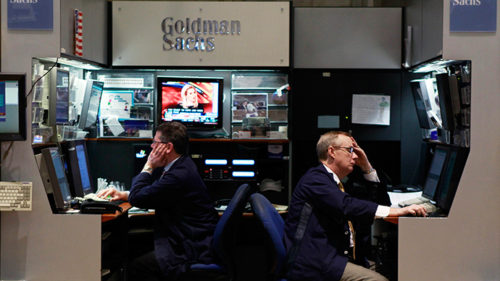 "Stress tests" are only necessary because of the inherently fraudulent nature of fractional reserve banking, which creates money out of thin air and never has enough funds to meet depositors' claims.
THE US Federal Reserve has rejected the capital plans of US branches of Germany's Deutsche Bank and Spain's Banco Santander in a test designed to gauge whether America's biggest banks are prepared to withstand a hypothetical financial crisis.
The 31 institutions that were tested this year hold $14 trillion in assets as of the fourth quarter of 2014, or about 80 percent of domestic bank holdings in the US, the US Federal Reserve said Wednesday. Both the banks which failed have passed Europe's financial institution stress tests.
The two banks were the only foreign banks out of the 31 major banks audited to fail the second part of the stress tests. America's largest bank, Bank of America, only got a conditional pass, and will need to submit a new capital plan by September. The Fed said that BofA had "deficiencies" in how it would react to a severe economic downturn.
"Our capital plan review helps ensure that the capital distribution plans of large banks will not compromise their ability to continue lending to businesses and households even during a period of serious financial stress," Federal Reserve Governor Daniel Tarullo said in the press release.
All 31 banks passed part one last week, which measured whether the institutions had an adequate capital buffer.
The stress tests, called Comprehensive Capital Analysis and Review, are part of the Federal Reserve's plan to make sure that banks have enough capital to withstand a financial crisis on the scale of 2008. The tests are conducted on an annual basis and if a bank doesn't pass, it will be banned from raising dividends and buying back stock until it resubmits its capital plan.
The protocol is part of the Dodd-Frank Act, which seeks to avoid a repeat of the 2008 collapse with precautionary regulations.
The Fed runs two test scenarios of deteriorating economic conditions, with the most extreme including a test on how the bank would react to a 60 percent fall in the stock market, a 25 percent decline in housing prices, and an unemployment rate of 10 percent.
Five institutions- Goldman Sachs, Morgan Stanley, and JPMorgan Chase, Deutsche Bank, and Santander- were given warning last week they needed to reshuffle their plans in order to get a passing mark on part two, which goes beyond looking at quantity, but looks at the quality- or if and how the bank can properly manage risk.
Goldman Sachs, Morgan Stanley, and JPMorgan Chase all resubmitted their plans and passed. Deutsche bank chose not to resubmit their plan, and Santander did, but still failed.
Boston-based US subsidiary of Santander failed the test for the second year in a row, and it was only Deutsche Bank's first time undergoing the test.
Bank of America had to resubmit its plan last year, and even after that, admitted it made a $4 billion accounting error. Citibank had its proposal rejected in last year's tests.
Overall, America's major banks are healthier than when the crisis hit in 2008, the Fed Governors said.
* * *
Source: RT