Leader of Greek Far-Right Golden Dawn Freed From Jail Before Trial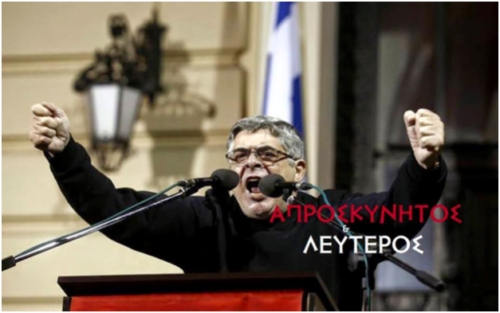 The leaders of Golden Dawn, Nikos Michaloliakos and Giannis Lagos, have defied their corrupt government every step of the way and were finally released. They were unconstitutionally imprisoned since September, 2013.
THE LEADER of Greece's far-right Golden Dawn party was released from prison on Friday and placed under house arrest as an 18-month limit on pre-trial detention expired.
Golden Dawn leader Nikos Mihaloliakos and a more than a dozen party members were arrested on charges of founding and participating in a criminal group following the killing of an anti-fascism rapper in 2013 by a party supporter.
The killing sparked nationwide protests and prompted a government-led crackdown on the fiercely anti-immigrant party, which entered parliament for the first time in 2012 by tapping into voter anger at Greece's economic crisis.
Senior party members are among the 70 people due to go on trial on April 20, and face up to 20 years in prison if found guilty.
Mihaloliakos and senior lawmaker Yannis Lagos were both freed from Athens's high-security prison on Friday under the detention limit. Another senior lawmaker, Christos Pappas, is due to be released in the coming week.
In a statement issued on its website after the release of the two defendants, Golden Dawn denounced their detention as "illegal and unconstitutional.
"Golden Dawn did not buckle during the 18-month imprisonment of its leadership … Golden Dawn will never buckle," it said.
Mihaloliakos will be placed under house arrest, while Lagos will be banned from taking part in public gatherings. Both are forbidden to leave Greece, court officials said.
The party denies the allegations against it and says it was the victim of a politically motivated witch-hunt.
Among those due to go on trial are all the 16 lawmakers Golden Dawn had in the previous parliament.
Thirteen of them, including Mihaloliakos, were re-elected to parliament on Jan. 25, along with four new members, making Golden Dawn the joint third largest party in the assembly.
* * *
Source: Reuters