EJC: Jews May Leave Europe, Create "Economic Disaster"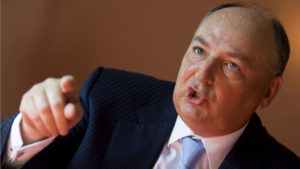 Moshe Kantor (pictured) pushes new scare tactic to get European governments to criminalize criticism of Jews.
EUROPEAN LEADERS "should be quick in adopting real measures to counter anti-Semitism" or witness Jews leave, taking away their money and businesses, says the President of the European Jewish
Congress (EJC).
The rise of xenophobia and anti-Semitism in Europe has led to many Jewish families pondering escape, EJC's Russian-born president Moshe Kantor said.
"This minority is going in case authorities are not delivering some real, real stuff," Kantor told Reuters. "This minority is going to leave Europe, definitely because this question just now in every Jewish family in Europe: to leave or to stay."
…This year's attacks on Jews in Paris and Copenhagen have led to Israeli Prime Minister Benjamin Netanyahu calling on European Jews to immigrate to Israel.
If Jews do it, that would trigger a serious economic crisis in Europe, Kantor warned.
"I think out of three million Jews that are living in Europe at least one million, a very active part or young part, self-sufficient part are going to leave and it will be a disaster, an economic disaster for Europe in general because first of all some supporters, non-Jewish supporters will come with Jews. It's a lot of cash and money currents are going to leave Europe and also businesses," he said.
He added that there is "a strong demand from civil society to modify the legislation fighting against racism, xenophobia and anti-Semitism."
EDITOR'S NOTE: The likelihood of Jews — who are currently riding high in western Europe, and who, with the aid of pressure from the controlled media and from the regime in Washington, are virtually able to dictate legislation and foreign intervention at will — leaving Europe is essentially nil. This threat is just one more prong in the ongoing Jewish effort to push hard for more laws making it a crime to criticize Jews or oppose their genocidal agenda.
* * *
Source: RT