DOJ: We Legalized 100,000 Illegals by Executive Action Before Injunction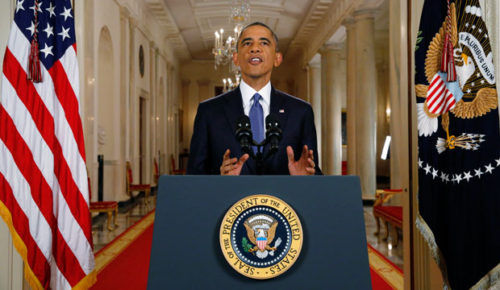 EXACTLY AS PREDICTED by Kevin Alfred Strom in 2005 (Immigration: Not About Race?), the regime in Washington is "solving" the illegal alien problem by simply declaring that illegals are now "legal." (ILLUSTRATION: President Barack Obama announces executive actions on immigration during a nationally televised address from the White House in Washington, Thursday, November 20, 2014.)
CNS News reports:

President Obama's expanded executive amnesty started earlier than the administration said it would — and before a court blocked it.
"Out of an abundance of caution," the Obama Justice Department on Tuesday informed a federal court in Texas that it started issuing three-year work permits to thousands of illegal aliens right after President Obama announced his executive amnesty on November 20 — and before a federal court issued a preliminary injuction blocking the expanded amnesty on Feb. 16.
The injunction barred the Obama administration from implementing "any and all aspects or phases" of Obama's expanded DACA (deferred action for childhood arrivals) program. That program allows certain illegal aliens to live and work in the U.S. for three years instead of two.
But the injunction did not apply to Obama's original 2012 DACA program, so when those people renewed their enrollment, they got the new three-year work permits.
Between November 24, 2014 — four days after Obama announced his expanded amnesty — and the court's injunction on Feb. 16, the administration says it granted three-year periods of deferred deportation (and three-year work permits) "to approximately 100,000 individuals" who signed up for the originial 2012 DACA program and were eligible for renewal…
The Justice Department also indicated it does not plan to undo what it has done…
Once the conservatives' injunction is swept aside, and it will be swept aside, this amnesty declaration is really a checkmate move against conservative opposition to non-White immigration. But it has the potential to radicalize many Whites into a full realization of the true racial nature of the war against us. As Kevin Strom stated in 2005:
"The anti-immigration 'conservatives' on Fox News are always screaming about how they're 'not racists' and how [the immigration debate] 'is not about race, it's about obeying the law.' Well, if it's about 'the law,' what are they going to say when Congress simply legalizes every illegal immigrant? They won't be able to say a thing. The conservatives are simply wrong. In fact, they're more than wrong — they're lying. It is about race."