The Recent Terror Attacks in Paris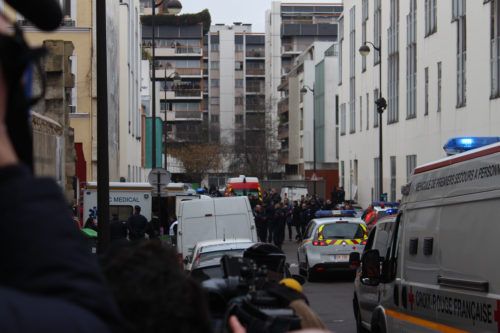 by Michael Olanich
THE BIGGEST NEWS STORY last week was the massacre of 12 newspaper writers and editors in Paris, France, by at least two masked gunmen who were reportedly radical Muslim Jihadists. The attack was on the office which housed the newspaper Charlie Hebdo, a strongly left-wing publication known for its routine satirical cartoons attacking Islam, Christianity, and even Judaism (although I have yet to see an example of the latter). Apparently the Muslim attackers had had enough of the paper's Islam-bashing and decided to slaughter the employees on Wednesday of last week. (ILLUSTRATION: Police officers, emergency vehicles, and journalists at the scene some two hours after the shooting.)
While it is hard for me to shed a tear for anyone who works in the left-wing news establishment, the question needs to be raised: Why is a European country like France allowing so many Arab Muslims, many of whom are hostile to the West, to freely immigrate there?
According to Wikipedia's article on the incident:
"Since the 1960s, the Muslim population of European countries such as France and Germany has been growing. By the time of the shooting, the Muslim population of France had surpassed 5 million. The Paris metropolitan area was estimated to have a minimum of 1.7 million Muslims in 2004. The Muslim presence is resented by some French people, particularly those on the far right."
Well, 5 million is probably a conservative estimate, and the "minimum" 1.7 million figure in Paris has undoubtedly risen since 2004. (Indeed, the situation in France and Germany resembles America's immigration disaster, and though in our case it is mainly Mestizos who continue to pour uncontrollably across our southern border, the number of Muslim immigrants is rising here as well.)
The only solution to this problem — and the one that is never considered or mentioned by the mainstream media — is expelling all non-White Muslims from France and returning them to their countries of origin in the Middle East. And we should not stop there: All European and European-derived nations –France and America and the rest — should expel all Middle Easterners, including Jews. It is Jewish elites who have worked to displace the native White populations of these nations. It is Jewish elites who have fostered the wars for Israel undertaken by the West in the Middle East, creating a huge wellspring of anti-Western feelings among Muslims, while simultaneously opening our borders to massive immigration of these same peoples in a high-risk play to make their enemies into our enemies — and use us as cannon fodder in their wars.
As long as the American and European media are dominated by Jews, this solution will never be seriously debated, despite its merits. Those who do so risk attack and ostracism from the media and System politicians in the US, and outright arrest in many countries in Europe.
Jewish lobbyists have already successfully stifled free speech in many European countries, where any negative criticism of them, their policies, their World War 2 atrocity stories, or non-White immigration in general is a criminal offense.
While I sympathize with Arabs over the continued Israeli slaughter of Palestinians in Gaza – and the total US backing of Israel's brutal policies – I am totally opposed to open immigration which allows Muslims to bring their "jihad" to Europe and America. It is clear that Arabs and Jews will clash with each other for a long time to come, with our people caught in the middle. Until a majority of will and determination arises to reclaim our ancestral lands for ourselves alone, we can expect even more innocent White men, women, and children to die needlessly in the crossfire.