William Pierce: Born September 11, 1933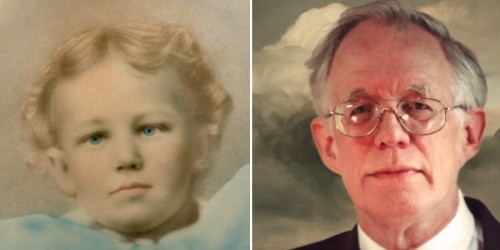 by Kevin Alfred Strom
SEPTEMBER 11 is the day of William Luther Pierce's birth. I remember him as my true friend, my most valued mentor, and my greatest teacher. He was a unique and gifted man who saw more clearly than almost all of his contemporaries the true nature of reality, the plight of our people, and the purpose of our lives in this Universe. We in the National Alliance remember his life on this day; we reflect on the truths he brought to light; and we renew once again our dedication to the only cause that really matters — the cause of the upward evolution of our race, which is the cause of Life itself.
The illustration presented here incorporates a newly-discovered and never-before-published hand-colored photograph of William Pierce as a very young boy, recently found in the National Alliance archives by the Alliance's Director, Will Williams. I don't think I am mistaken when I say that I see a surprising degree of the seriousness and strength of the man to come in the face of the child.
If our race survives this dark time, the name of William Luther Pierce will be remembered as one of the very few Great Ones who offered their strength, their wisdom, and their upward-lifting hands to our people, and showed us that the spiral staircase of our DNA itself is the only exit from the labyrinth of death, despair, and materialism in which we find ourselves today.
On this day, let us remember these words of William Pierce:
"We must reach out to our people. We must alert them. We must educate them. We must encourage them. We must inspire them. And here's a beautiful, wonderful thing: When you reach out to other people to encourage them and inspire them, you yourself will be encouraged and inspired. When you find out how many other people there are who share our concerns, our feelings, our values, our sense of responsibility, you cannot help but be encouraged. Even the hatred that you encounter from some people — especially from people in the controlled media — will be encouraging. For you will understand that they would not hate us so much if they did not fear us. And the reason that they fear us is that deep inside them they know that what we say is true. So let's get out there — all of us — and start looking for encouragement!"