Demjanjuk Trial Evidence Faked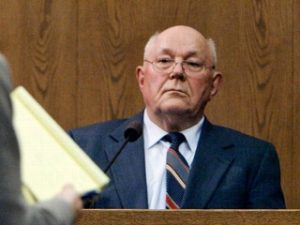 by Chris Rossetti
AN FBI REPORT kept secret for 25 years said the Soviet Union "quite likely fabricated" evidence central to the prosecution of John Demjanjuk (pictured) – a revelation that could help the the retired Ohio auto worker's defenders against charges that he is guilty of "Nazi war crimes."
The newly declassified FBI field office report casts doubt on the authenticity of a "Nazi" ID card that is the key piece of evidence in allegations that Demjanjuk served as a guard at the Sobibor death camp in occupied Poland.
Throughout three decades of U.S. hearings, an extradition, a death sentence followed by acquittal in Israel, a deportation and a trial in Munich, Germany, the arguments have relied heavily on the photo ID from an SS training camp that indicates Demjanjuk was sent to Sobibor.
Claims that the card and other evidence against Demjanjuk are Soviet forgeries have repeatedly been made by Demjanjuk's defense attorneys. However, the FBI report provides the first known confirmation that American investigators had similar doubts.
"Justice is ill-served in the prosecution of an American citizen on evidence which is not only normally inadmissible in a court of law, but based on evidence and allegations quite likely fabricated by the KGB," the FBI's Cleveland field office said in the 1985 report, four years after the Soviets had shown U.S. investigators the card.
It was the height of the Cold War at the time, and the ID card from the Trawniki training camp had not been as closely examined by Western experts as it has been today. Since then it has been scrutinized and validated by courts in the U.S., Israel and Germany – though experts at the recent trial left room for doubt, with one conceding that a counterfeiter with the right materials could have forged the card and other documents.
The FBI agents argued that the Soviets had an interest in faking the documents as part of a campaign to smear anti-Communist emigres. Those conclusions contradict the findings of another branch of the Department of Justice, the heavily Zionist-influenced "Office of Special Investigations," or OSI, which was central in making the allegations against Demjanjuk.
The FBI report was discovered by researchers for the Associated Press (AP) at the National Archives in College Park, Md., among case files that were declassified after the Ukrainian-born Demjanjuk was deported from the U.S. in May 2009 to face trial in Germany.