Artist Helnwein Reprints Sylvia Plath Article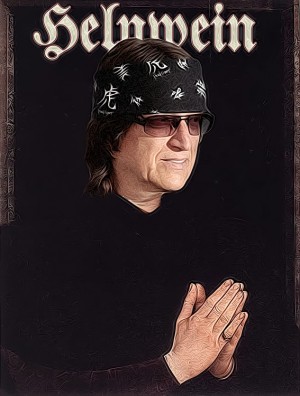 by Ann Hendon
THE AUSTRIAN-BORN ARTIST Gottfried Helnwein (pictured) republished the National Vanguard article "Sylvia Plath: Stasis in Darkness" on his Helnwein-Theater Web site in response to NV Editor Kevin Alfred Strom's use of a Helnwein painting to illustrate the Plath piece.
In the caption for the image, Strom said "Like Sylvia Plath, artist Gottfried Helnwein has a near-schizoid attitude toward Germany's National Socialists, producing images of that period ranging from the truly horrible to those bordering on an eerie reverence. Here his work Epiphany I, Adoration of the Magi (1996), in which the central female figure has a Plath-like intensity."
These two sentences — along with a large version of the painting — were highlighted by the Helnwein-Theater site, but no commentary was offered and the National Vanguard article was reproduced in full.
Helnwein himself was a student at Vienna's Academy of Fine Arts, the same school that once refused Adolf Hitler's application. "That was probably their biggest mistake," says Helnwein. "Better a bad painter than a very good dictator."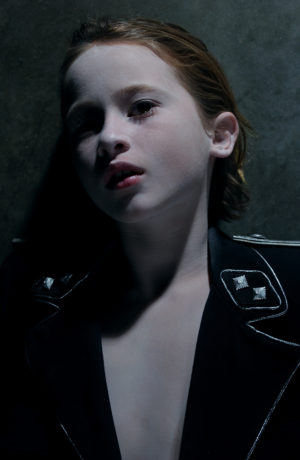 Helnwein often highlights the terrible consequences of World War 2 on children in his work, and cites the unreal atmosphere and euphemistic language of postwar Austria — where the official position conveniently switched to posing as "Germany's first victim" as soon as the war was lost — as a formative influence.
His images of children physically injured and ravaged mentally by war are at times shocking and always haunting and unforgettable. His Modern Sleep 3, shown here, seems to be saying that we and our children are inured and asleep to our own society's terrors, just as the children of pre-World War 2 Europe were to theirs.
He says that children today are still victims: "When I see how kids grow up, how they are neglected and mistreated, how they get polluted with drugs, junk food, insane television and bad schools, it's terrible, and dangerous, because they are our future. Children are sacred — we need to protect, support and encourage them. Anybody who abuses a child — I don't believe in the death penalty — but definitely they should be locked away, maybe in a labor camp. There's no excuse for a crime like that. I don't care what justifications psychologists come up with. You don't touch a kid."
I asked Kevin Alfred Strom why he chose the Helnwein Epiphany as an illustration for Vic Olvir's essay on doomed poetess Sylvia Plath. "I was told by a few correspondents that that was a stretch — that the picture had nothing to do with Plath," he replied. "Now I never said it was connected to Plath — but there is a parallel between the way Helnwein and Plath viewed that period. Both are saying something, and perhaps seeing something, that neither modern society nor NS enthusiasts want to know."
While it's clear Helnwein is no advocate of National Socialism and relentlessly points out its real and imputed flaws, one gets the impression that he also is trying to say something about the moral emptiness and callousness-dressed-as-humanitarianism that now infects the Western world. Perhaps his republication of our article is part of that. Then again, perhaps it's an act of Art, and therefore not subject to the rigidity of explanation — even in the artist's own mind.