B'nai Brith Leader Sentenced: 45 Days for Child Rape Videos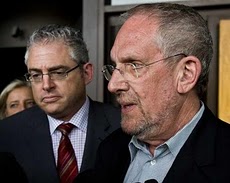 Time is to be served on weekends, plus 240 hours of community service.
BILL SURKIS says he downloaded close to nine hours of videos of men raping girls as young as 6 because he is curious by nature and likes to learn. (ILLUSTRATION: Bill Surkis, right, with attorney Slimovitch)
But the former Quebec regional director of B'nai Brith gave little thought to the fact his actions feed a booming child pornography industry that sexually exploits young girls and makes them victims on cyberspace forever, a crown prosecutor said yesterday.
Indeed, during his sentencing hearing yesterday, the 71-year-old father and grandfather didn't mention the prepubescent girls who appeared in the 21 videos found on his computer.
Instead, it was his own image that concerned him most.
"It's exceptionally difficult to undergo what I've gone through, what I put my family through, my friends and my community through," Surkis told Quebec Court as his wife looked on from the front row of the room.
"It's difficult to get undressed in public so many times.
"I destroyed my life and parts of my family's life."
The Crown and defence agreed yesterday that Surkis should receive a jail term of 45 days, to be served on weekends, do 240 hours of community work and be placed on probation for three years.
But they don't agree on the probation conditions.
Lawyer Steven Slimovitch argued Surkis shouldn't be placed on the national sex offender registry nor be required to submit a DNA sample because he isn't a pedophile.
He described his client as a "stellar" member of the community and, quoting from eight reference letters from prominent clergy and rabbis, Slimovitch said Surkis was an "outspoken defender of human rights."
Surkis told the court that if his name was placed on the sex registry, he wouldn't be able to "serve his community."
…At the time of his arrest, Surkis said he had downloaded the pornography to educate himself before giving public lectures about abuse on the Internet.