Anti-Nobility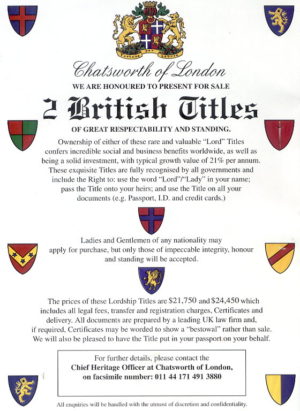 by Kevin Alfred Strom
AS MUCH as I deplore the multiracialism of the former British Empire, its anti-White and anti-European crusades just before its undignified collapse, and its huge waste of our race's energies in the far-off sinkpits of the Third World, I must confess that I admire the concepts of rank and nobility which it once partially embodied. Not rank as something to be inherited by the unworthy, nor as something to be bestowed on the merely wealthy, but rank as something proved by actions which themselves proceeded from an inner greatness.
British nobility may seldom have approached that ideal. But now the ideal itself has been killed, dismembered, mocked, and spat upon. Nothing is left but a memory of what might have been.
You need only click on the image on the right of these words to see a full-size reproduction of an advertisement that ran in British Heritage magazine some years ago (and many similar ads, I am sure, have been published since then) which will show you precisely how ignoble the system of rank in Britain has become.
Here's the semi-literate text of the ad:
Chatsworth of London
We are honoured to present for sale 2 British Titles of great respectability and standing.
Ownership of either of these rare and valuable "Lord" titles confers incredible social and business benefits worldwide, as well as being a solid investment, with typical growth value of 21% per annum. These exquisite Titles are fully recognised by all governments and include the Right to: use the word "Lord" / "Lady" in your name; pass the Title onto [sic] your heirs; and use the title on all your documents (e.g. Passport, I.D. and credit cards.)
Ladies and Gentlemen of any nationality may apply for purchase, but only those of impeccable integrity, honour and standing [and $20,000 cash — Ed.] will be accepted.
The prices of these Lordship Titles are $21,750 and $24,450 which includes all legal fees, transfer and registration charges, Certificates and delivery. All documents are prepared by a leading UK law firm and, if required, Certificates may be worded to show a "bestowal" rather than sale. We will also be pleased to have the Title put in your passport on your behalf.
For further details, please contact the Chief Heritage Officer at Chatsworth of London, on facsimile number: 011 44 171 491 3880.
All inquiries will be handled with the utmost of discretion and confidentiality.
Compare this with the nobility spoken of in Nietzsche's Zarathustra:
"O my brethren, I consecrate you to be, and show unto you the way unto a new nobility. Ye shall become procreators and breeders and sowers of the future. Verily, ye shall not become a nobility one might buy, like shopkeepers with shopkeepers' gold. For all that hath its fixed price is of little worth….
"For, my brethren, the best shall rule: the best will rule! And where the teaching is different, there — the best is lacking."