Mugabe's Lesson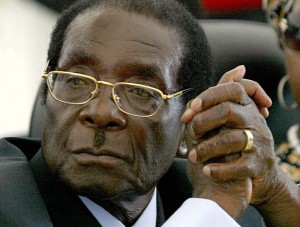 by Kevin Alfred Strom
IN THE LAND that was once called Rhodesia when it was ruled by White men — now Black Zimbabwe — president Robert Mugabe's "militias" routinely take young girls from families accused of being opponents of the regime, gang rape them, and then use them as travelling sex slaves as they rampage and murder over the countryside. London's Daily Telegraph reported that rape is being used as a weapon of "systematic political cleansing" of the population. "War veterans" and "youth militias," with the support and approval of anti-racist hero Mugabe (pictured), rape the young girls, beat them and others suspected of opposition tendencies almost to death, burn their genitals with iron rods, and then, in a land haunted by famine, urinate on their meager food supplies.
Murder and mutilation are also used as political weapons against opponents of the Mugabe regime, as are selective handouts of Western food aid, which go to Mugabe's cronies and supporters first, while opponents get sent to the back of the line or are left to starve. Food is a powerful weapon in Zimbabwe, too, since it is estimated that as many as half of the population of 12 million faces starvation. The reason for the famine is Mugabe's officially announced policy of "fast track land reform," a code phrase for the seizure of White-owned farms, which are handed out to Mugabe's "youth militias" and "war veterans," which terms are themselves euphemisms for bands of armed Black killers and rapists, some of whom claim to be veterans of Mugabe's Communist insurgencies of the 1970s. The insurgents, with decisive help from Western governments and religious bodies, toppled the White Rhodesian government in 1980.
Initially, one third of the 4,500 White-owned farms were to be seized. But when the squatters and thugs proved to be no more adept at farming than they are at mathematics or table manners, and the seized farms lay in ruin, devastating the economy and creating a famine, Mugabe knew that he had to do something before his own gunmen decided they needed a new Maximum Leader. He raised the percentage of White farms to be seized to 100 per cent.
Currently, a bloodbath is taking place in Zimbabwe. (Similar atrocities, with the same motivation, are also taking place in South Africa.) The White farmers who refuse to give up their ancestral lands are being slaughtered and their women and girls raped and mutilated. Calls to the now Black-run police are useless: When farmer Terry Ford called the police in Norton several times during the early morning hours of March 18th, 2002, while his farm was being invaded by a Black mob (later linked to Mugabe's sister), the police informed him that their duty driver was "asleep," so there was nothing they could do. Ford's tortured and battered body was found the next morning, tied to a tree. He had been shot through the head after being repeatedly rammed against a fence by a truck.
Of course, the taxpaying serfs of America are Mugabe's slaves in the sense that we have to work for him. According to the U.S. Agency for International Development, Mugabe got $9.3 million from the United States in 1999, $12.6 million in 2000, and $13.7 million in 2001. Zimbabwe requested $350 million in U.N. aid, and the total keeps on increasing. According to investigative reporter Anthony C. LoBaido, Israel supplied the equipment for Zimbabwe's police forces, and is now providing training for Mugabe's thugs and killers, who are studying the techniques used by Israel on the Palestinians.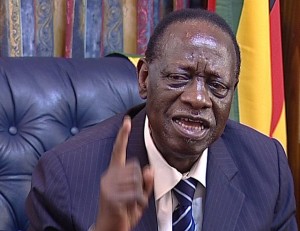 Mugabe himself makes no bones of his racial animus, and openly calls for the killing of Whites. At a party congress in 2001, just two days after an elderly White farmer was shot dead at the gate of his farm, he called for action against "White devils," and stated bluntly that he was at war with Whites and intended to take all they had away from them. "The courts can do whatever they want but no judicial decision will stand in our way. . . . My own position is that we should not even be defending our position in the courts. …Our party must continue to strike fear in the hearts of the White man, our real enemy." The leader of the "war veterans" organization, Hunzvi, stated "We are fighting for our land and whosoever is killed, it's tough luck." (South African Sunday Times, February 24, 2002)
Zimbabwe's vice president until his recent death, Joseph Msika, stated candidly that "Whites are not human beings."
In the face of all this "democracy" and "racial justice," Mugabe's former cheering section in the Jewish media, and in the pulpits and legislative assemblies of the West, is strangely silent now.