Maldives: White Couple Mocked at Wedding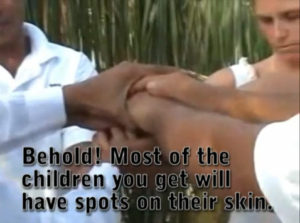 Do not allow children to watch this video. Note that the grotesquely obscene insults directed at the couple are participated in — and laughed at — by many of the non-Whites, not just the "celebrant" as alleged in the story — and not a one of them did or said anything about it or expressed even the slightest remorse. Mark my words, they've done this many times.
THE MALDIVES expressed "shock and disgust" Wednesday after a video surfaced of a Swiss couple being mocked and insulted by a celebrant during their marriage ceremony at a luxury hotel.
In the video, posted on YouTube several days ago, a couple can be seen seated opposite the celebrant as they renew their wedding vows at the Vilu Reef hotel, which charges 400 dollars a night for the use of its honeymoon suite.
Speaking in the local Dhivehi language, the celebrant calls the couple "swine" amid a host of other insults during a hateful profanity-laced tirade littered with often bizarre personal and religious-tinged taunts.
Muslim-majority Maldives, a nation of 1,192 tiny coral islets scattered some 550 miles (880 kilometres) across the equator, is one of South Asia's most expensive holiday destinations and is popular among Western honeymooners….
Vilu Reef general manager Mohamed Rasheed said the hotel had apologized to the couple who had the ceremony on October 11 and had taken disciplinary action against those involved.
The disgraced celebrant has been suspended and the hotel company, Sun Hotels and Resorts, said in a brief statement it had asked the police to investigate.
"We have apologized to the couple as well as to the general public," Rasheed told AFP when contacted by telephone. "The man had used filthy language. Otherwise the ceremony was OK…." [The manager's last statement itself is a mockery of us, the Western readers. — Ed.]
The hotel offers ceremonies to renew wedding vows on its website, saying couples can "seal your everlasting love" as "the Maldivian sunset transforms the sky into a kaleidoscope of romantic hues"
Guests pay 1,300 dollars for the ceremony with the services of a celebrant thrown in.
The local Minivan newspaper said the man conducting the ceremony was pretending to read traditional marriage vows off a piece of paper, but was instead holding an employment contract for employees at the hotel.
Do not allow children to watch this video.