List of 'Forbidden Words' Gets 'Bigger'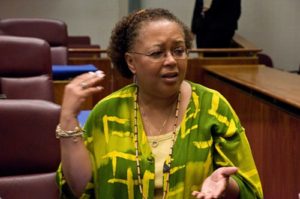 by Edgar A. Perry
THE WALL STREET JOURNAL reports that "[t]he list of racially insensitive words just got bigger: Republican U.S. Senate candidate Mark Kirk is drawing some criticism for a remark he made to fellow Republicans about the upcoming election. Kirk talked about 'key, vulnerable precincts, for example, South and West sides of Chicago, Rockford, Metro East, where the other side might be tempted to jigger the numbers somewhat.'"
Alderman Freddrenna Lyle (pictured; and yes, that's her real name), a Democratic Committee member, and others said they were offended by Kirk's use of the verb "jigger" when "talking about regions heavily populated by Black voters": "The problem I had is that it sounds so much like another word," the Rev. Albert Tyson stated.
The Journal said it well when adding "Some may say that Lyle and Tyson are too quick on the trigger, but surely it's appropriate to apply rigor in combating the racism that for too long has left our country disfigured."
My question: How will this affect A.A. Milne's classic Pooh books that deal with "Tigger"?