Israel: Loyalty Oath Applies Only to Non-Jews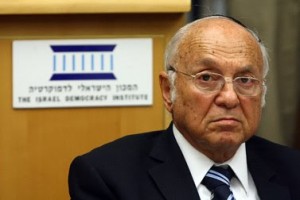 The new oath, required of all non-Jews wishing to become Israeli citizens, is the equivalent of the US requiring all new citizens to swear their loyalty to "America as a White republic."
ISRAELI CABINET ministers on Sunday approved by a majority vote a controversial proposal (by Ya'akov Ne'eman, pictured) which would require every non-Jew wishing to become a citizen of Israel to pledge loyalty to "the State of Israel as a Jewish and democratic state."
Twenty-two ministers voted in favor of the proposal, including most of Likud, Shas and Yisrael Beiteinu. Eight ministers were opposed, five of them from the Labor Party and three – Benny Begin, Dan Meridor and Michael Eitan – from Prime Minister Benjamin Netanyahu's Likud.
The divided cabinet spent hours deliberating Justice Minister Ya'akov Ne'eman's proposed amendment to the Law of Citizenship ahead of the vote, including a proposal by Ne'eman himself that the pledge apply to Jews and non-Jews alike.
Defense Minister and Labor Party Chairman Ehud Barak warned earlier Sunday that he would vote against the proposal unless the cabinet agreed to include in the draft an allusion to Israel's Declaration of Independence.
Neither of those amendments was included in the final draft passed by cabinet.
As the cabinet began its deliberations Sunday, Netanyahu reiterated his support for the proposal. "The State of Israel is the national state of the Jewish people and it is a democratic state for all its citizenship," he said. "Jews and non-Jews enjoy equality and full rights."
"Unfortunately, there are many today who tried to blur not only the unique connection of the Jewish people to its homeland, but also the connection of the Jewish people to its state," Netanyahu added.
"Democracy is the soul of Israel and we cannot do without it. No one can preach democracy or enlightenment to us," Netanyahu added. "Zionism established an exemplary national state, a state that balances between the national needs of our people and the individual rights or every citizen in the country."…