Illinois: They Call it "Polar Bear Hunting"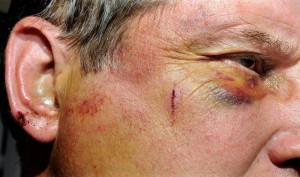 IN CHAMPAIGN-URBANA Illinois the reports of beatings of White men are coming in quicker than police can even process them.
Champaign detective Sgt. John Schweighart said police received three more reports since late Thursday night.
At 10:45 p.m. Thursday, a 36-year-old man was attacked by four Black males, who first asked him for a cigarette, then punched his face and knocked him to the ground.
Local broadcast personality Mike Sola, 50, was attacked in the 1100 block of Crescent Drive about 9:30 p.m. Friday from behind by at least two Black males as he left a high school football game.
And about 12:45 a.m. Saturday, a 20-year-old Rantoul man was attacked by two Black men in the 700 block of South Sixth Street.
"They all appear to be random," Schweighart said. "On some occasions, the suspects say nothing and they just start to batter. The one on the 23rd, the victim was walking and one of the suspects asked him for cigarette. He told them he didn't have any and was struck from behind."
Schweighart said the similarities in the attacks and the race of the attackers and the victims tie the cases together. But it's clear the problem is spreading.
"Geographically, we can't even map this. It covers from one end of the city to the other," he said.
Police have stepped up patrols in the campus area to deter the attacks and were able to nip an attack in the bud in the 500 block of East Green Street on Sept. 18. But because they usually last only seconds, Schweighart said it's "happenstance" if police catch one in progress.
It was late August when police went public asking for help in catching the attackers, but a Jerseyville woman who contacted The News-Gazette after reading of recent attacks said her son was the victim of two similar attacks in 2008.
Joy Molloy, 58, said her 22-year-old son was walking with a friend in January 2008 on Daniel Street when he was attacked without provocation by several Black men.
"They'd been drinking and some kids accosted them and literally beat him and left him for dead," Molloy said.
Her son was admitted to Carle's intensive care unit for bleeding in the brain, multiple broken bones in his face, a concussion and multiple cuts inside his mouth from being kicked. His friend thought when Molloy's son hit his head on the curb, the attackers may have thought he was dead and ran off.
Because he was 20 at the time, the hospital was not required to call his parents, but a nurse persuaded him to contact his mother. Arriving at the hospital, she said she asked her son if he was robbed but he didn't know for sure. She found his wallet in his pants with everything still in it.
"They did it just for fun," she said.
And after physically recovering, her son was attacked again in the summer of 2008, also while walking to his fraternity on Daniel.
"The second time they just punched him in the side of the face. He just kept going," Molloy said.
"It is absolutely not safe to walk the street. It has nothing to do with being by yourself. He was with someone else both times," she said. "Parents need to know this."…
The attacks seem to have been concentrated on campus during August but lately have been spreading across Champaign and have even included young White boys in city parks.
Read more in Attacks on the Rise and Unprovoked Attack