Google Street View, Brazil: Random Corpses
Brazil's flag reads "Ordem e Progresso" which translates to "Order and Progress," but Google's Street View cameras capture the true nature of the country's racially mixed areas.

GOOGLE'S Street View service in Brazil has been been flooded with complaints after users were shown graphic images of dead bodies in the streets at several locations.
The service launched in Brazil last week but quickly attracted attention for the wrong reasons when television station Globo G1 broadcast Google-captured images of a corpse covered by a black plastic sheet and surrounded by blood spatters in a Rio de Janeiro street.
In the images, police cars surrounded the body in Belo Horizonte as officers form a cordon and push back members of the public who have gathered outside the street corner shops.
But several Web sites and Internet bloggers reported other similar images in Rio and further afield.
On Avenida Presidente Vargas, also in Rio, another image seems to show a body lying in the street that has not yet been found or attended by police.
It is not clear how many images of dead bodies were recorded by the Google Street View cameras but after receiving complaints the internet giant issued a statement declaring that 'all images of the bodies were removed' from the mapping service….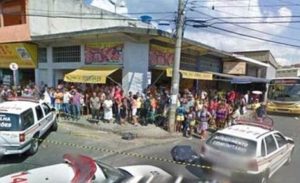 In 2010 the U.N. published a report into violent deaths in Brazil by an independent expert.
The document from Philip Alston, the UN Special Rapporteur on extrajudicial executions, stated: 'When I visited the country two and a half years ago, I found that the police executed suspected criminals and innocent citizens during poorly planned and counter-productive war-style operations into favelas [shanty towns].
'Off-duty police, operating in death squads and militias, also killed civilians, either as "vigilantes" or for profit.
'Today, the situation on the ground has not changed dramatically.'
Sources: Western Voices; Daily Mail