Cyndi Steele: Allow Me to Speak to My Husband!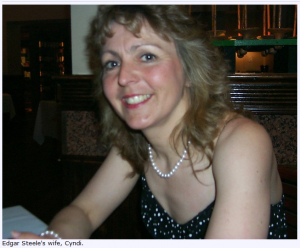 by Kevin Alfred Strom
CYNDI STEELE, wife of imprisoned pro-freedom attorney Edgar J. Steele, is asking a U.S. District Court judge to drop the outrageous "no contact" order which forbids all contact between her and her husband.
Edgar Steele — a critic of the FBI and an advocate for White Americans — is accused by the FBI of hiring a hit man to kill Cyndi Steele, an accusation that she dismisses as preposterous and full of patent falsehoods. The FBI says that Steele might try to "tamper" with "a witness" — Cyndi herself — if contact is allowed, because Edgar Steele simply told her what any other man in the same situation would have told her: That the FBI had faked the tape recordings she was about to hear, and that the prosecution was politically motivated.
The motion was filed in Coeur d'Alene this week by her attorney, Wesley Hoyt.
Cyndi states to the judge that she needs contact with her husband because of "numerous pending professional and family business matters."
The Idaho Pipe Bomber, Larry Fairfax, who all sides admit did attempt to kill Cyndi Steele, is being protected by authorities and allowed to plea in a "sweetheart" deal that may have him out of jail next year — and authorities refuse to prosecute any of his accomplices, nor will they prosecute him for the theft of $45,000 in silver from the Steeles. It was Fairfax's fear of being discovered in this theft, according to the Steeles, that led him to attempt murder and go to the FBI with his offer to "get" Steele in return for partial protection.