The Valhalla Machine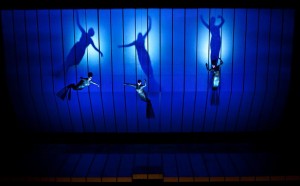 THE Rhinemaiden descended by a cable to the floor of the Metropolitan Opera stage. She extended her body just in front of a hollow beneath part of the set for Wagner's "Rheingold." Slowly, inexorably, the edge of a 45-ton structure tilted down toward her.
"Get her underneath," a stagehand said urgently into a walkie-talkie. "Manny, get her underneath."
"Now!" he added, his voice rising in panic.
The Rhinemaiden, a k a Jennifer Johnson, was soon dragged to safety, eliminating the danger of a squashed mezzo-soprano. But the scary moment — really just a bump to be ironed out in early rehearsals, in the eyes of the producers — was a reminder of the risks and hurdles involved in mounting what the Met calls the most complicated production ever put on its stage: a new Wagner "Ring" cycle that involves a leviathan set, scenery almost entirely based on intricate computerized projections and a few age-old theatrical techniques.
It is just the sort of thing, its creators say, that Wagner would have wanted: the most advanced technology in service of his opera.