J Street Admits Soros Funding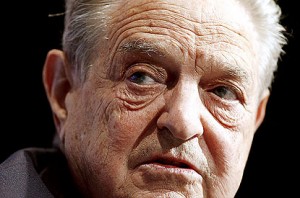 J STREET has acknowledged substantial donations from billionaire George Soros (pictured), reversing years of claims by the group that it had nothing to do with the liberal financier, and apologized for making misleading statements about his role.
Jeremy Ben-Ami, the director of the dovish pro-Israel lobby, confirmed to JTA a report that first appeared in The Washington Times that it had received $245,000 from Soros and his children in 2008, and added that it had received another $500,000 in subsequent years—altogether, about 7 percent of the $11 million that J Street says it has taken in since its 2008 founding.
Ben-Ami for years has given statements denying Soros had a role in founding the group and strongly implying that he continued to have no role….
Soros, a Hungarian-born Holocaust survivor and hedge fund billionaire, has funded a broad range of liberal groups in the United States and pro-democracy groups overseas, including in countries that were shucking off communism.
He sparked controversy in Jewish circles for saying in a 1995 New Yorker profile that he doesn't "want to be part of" pro-Israel activity, although he did not deny "the Jews their right to a national existence."
In 2003, an apparent attempt by Soros to gingerly enter the world of Jewish funding went awry when he attended a meeting of the Jewish Funders Network and said that U.S., Israeli and Jewish policies "contribute" to manifestations of anti-Semitism.
His thesis appeared to be that Israeli and American officials should be aware that anti-Semites use their policies as a pretext for attack, and not that these policies justify anti-Semitism.
"I'm also very concerned about my own role because the new anti-Semitism holds that the Jews rule the world," he said at the meeting. "As an unintended consequence of my actions, I also contribute to that image."