Jews, Muslims "Common Cause" To Oppose European Nationalists: Europe's Top Rabbi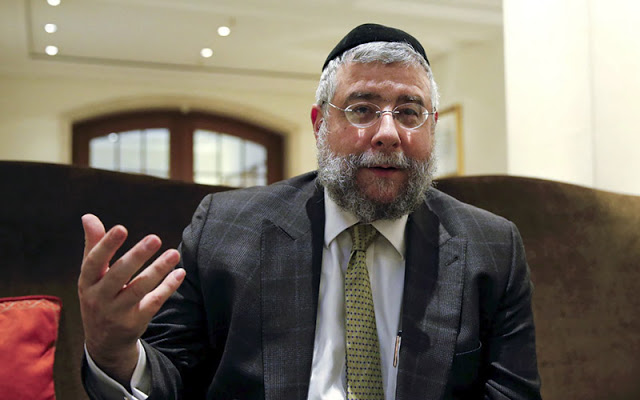 JEWS AND MUSLIMS in Europe have a "common cause" in opposing the rise of pro-European parties, Pinchas Goldschmidt, the president of the Conference of European Rabbis, has announced.
Speaking during his annual Passover message, Goldschmidt called on Jews to "show solidarity with Muslims."
Goldschmidt warned that the rise of ultra-nationalist parties and damage to the European Union caused by Brexit threatened the security of Jewish and Muslim minorities.
"When there is tolerance for other languages, other cultures, religions, traditions, we Jews feel more accepted," Goldschmidt, who is also chief rabbi of Moscow, said.
"At the moment when an ultra-nationalist wind begins to blow, it makes Jews, as a minority, uncomfortable."
Goldschmidt said that Europe was heading into a period of fluidity and turbulence, "which raises the question to what extent can you ensure the continuity of the Jewish community in Europe."
"In general what we see is a reaction to immigration from the Middle East which has brought millions of Muslims to Europe," he continued.
"Europe is now engaging in anti-immigration measures and [dealing with] the fear of Islamic terrorism.
"We [Jews and Muslims] definitely have a common cause in fighting for religious freedoms."
Goldschmidt cited calls to close mosques, ban ritual slaughter in the production of halal and kosher meat (which involves cutting the throats of non-stunned animals and letting them painfully bleed to death), outlaw circumcision — practiced by Jews and Muslims — and last month's European court of justice ruling that employers could ban workers from wearing religious symbols or clothing.
Goldschmidt went on to discuss Muslim terrorism, saying that it could not be countered by "fighting Islam," saying that there is a "red line" between Islam and "radical Islam."
"We are the last ones to say it is not a problem. But what we are saying is that you don't counter and fight Islamic terrorism by fighting Islam.
"But populist parties in France, Holland, Austria, and Germany are trying not to see this red line. It's imperative for us and millions of Muslims living in Europe to show everyone this red line exists."
Donald Trump's victory in last year's U.S. elections had raised fears that ultra-nationalist parties in Europe might benefit from a "tailwind," he said.
The anti-Islam, anti-EU, populist Geert Wilders had been defeated in the Dutch elections last month, "but we need to see what happens in France and Germany."
Goldschmidt added: "With the victory of Trump, we have ultra-nationalist parties feeling invigorated and strengthened, and they hope to have more influence in European politics. So it's important to retain European common values and European unity.
Goldschmidt also warned against "covert antisemitism" under the banner of the movement to boycott Israel in protest of its 50-year occupation of Palestinian territories.
"It's not politically correct to be an all-out anti-Semite, but in many instances the state of Israel has replaced the Jew. To some extent, organizations … which are trying to delegitimize the state of Israel is a covert expression of antisemitism."
Of course, Goldschmidt ignored the fact that the state of Israel — which he fanatically supports — implements all of the policies to which he declared himself allegedly so opposed to in Europe: Israel is meant to be a Jews-only state, and has immigration, marriage, and social laws (including segregation) based on race and religion.
The festival of Passover, during which Jews claim they commemorate the Israelites' liberation from slavery in ancient Egypt, as told in the biblical story of the Exodus, begins at sunset on Monday and lasts for eight days.
The word "pass over" refers specifically to the incident in the book of Exodus, where God helps the Jews escape Egypt by inflicting ten plagues upon the ancient Egyptians.
The tenth and worst of the plagues was the death of the Egyptian firstborn.
The Jews were instructed to mark the doorposts of their homes with the blood of a slaughtered spring lamb and, upon seeing this, the angel of death sent by God to kill the firstborn of each house knew to "pass over" the firstborn in these homes, hence the name of the commemoration.
* * *
Source: New Observer
* * *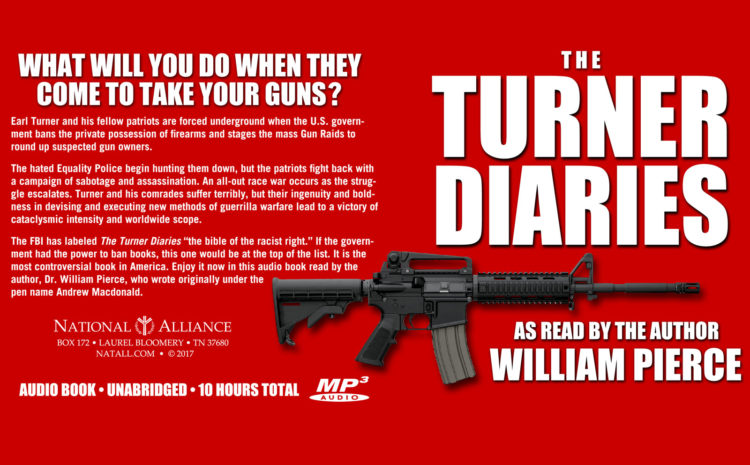 Listen: Turner Diaries commercial
OUR NEW, remastered audio book edition of The Turner Diaries read by the author, Dr. William Pierce, is now available. You can get your copy now — the CDs are are shipping as soon as orders come in.
The original recordings, made by Dr. Pierce and Kevin Strom on reel-to-reel tape in 1995, had been digitized in the early 2000s, but that digitization process was primitive compared to what we are capable of today; we have remastered this important work using the latest software — and we did it the careful, slow, difficult, craftsman-like way — the way Dr. Pierce would have wanted it.
We are proud to offer you the result, which can be ordered online via http://natall.com/td or by postal mail from National Alliance, Box 172, Laurel Bloomery TN 37680 USA. The fidelity of the disc is excellent: On a good speaker system, it sounds as if Dr. Pierce is with you, reading his book to you personally. There is nothing quite like hearing the man who created The Turner Diaries read it to you himself. And, by purchasing this mp3-CD, you will be supporting the important work of the National Alliance.
Listen: Turner Diaries commercial
* * *