Zionist Jew Committed Most of the Recent Bomb Threats Against Jewish Centers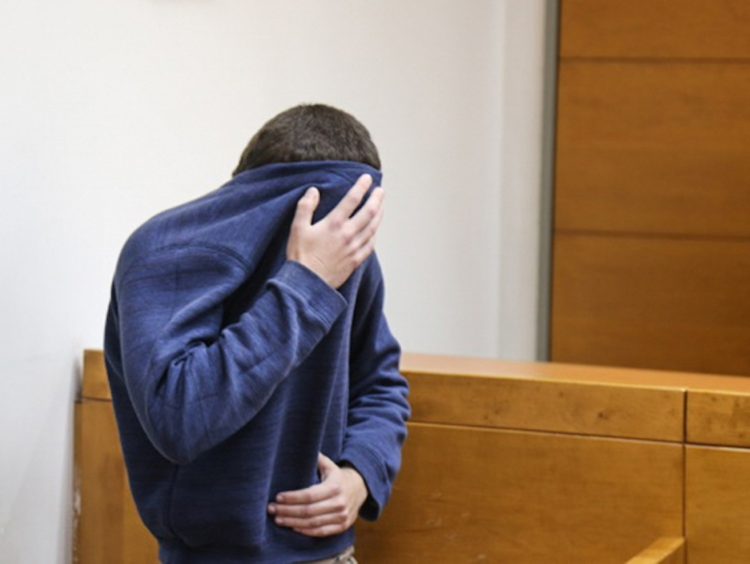 by Hadding Scott
SINCE DONALD TRUMP TOOK office there has been hoopla about a supposed wave of anti-Semitic incidents, which, we are supposed to believe, were perpetrated by Trump's supporters. The hoopla escalated after President Trump came under attack for not mentioning Jews in his statement on International Holocaust Remembrance Day, and then for refusing to issue a modified statement under pressure. Ha'aretz referred to a "Trump-inspired surge in anti-Semitic incidents."
As police solved these crimes, however, most of them turned out not to be the work of angry White males. There was the campaign of swastika-graffiti waged by Punjabi immigrant Jasskirat Saini on Long Island. There was the Negro journalist Juan Thompson accused of at least eight threats against Jewish community centers. There was the Jewish liquor merchant Scott Young in Newtown, Connecticut who spray-painted "Burn the Jew" and swastikas on his store's back entrance and then set the store on fire to collect insurance. There were the toppled tombstones in Jewish cemeteries, which police-investigation found to be not the result of crime but of natural deterioration and neglect (Jewish parsimony, in other words).
President Trump has suggested more than once that such incidents might be false flags, which is the common sense view of anybody familiar with the history of supposed anti-Semitic incidents. Vandalism accompanied by anti-Jewish graffiti typically turns out to have been inflicted by Jews. The Jewish Forward, however, called Trump's observation "dangerous."
Now it turns out that "most JCC bomb-threat calls" spanning several continents over the past six months, as the Jerusalem Post reports, were done by a 19-year-old Jew, a dual citizen of the United States and the State of Israel.
Other reports tell us that this dual citizen perpetrated his false flag bomb threats from a home in southern Israel, using computer technology to mask the origin of his calls. The FBI somehow tracked him down in spite of this, as revealed by a U.S. official:
The official says dogged cyber work and IP tracing led to what he described as the "eureka moment" that was the result of a 6 month intensive effort with Israeli authorities. [NBC News, 23 March 2017].
Of course Israeli police would never have pursued the matter without goading from the United States and would never have arrested him if the FBI had not identified him, and he will never be sent to the United States for trial. He will be judged leniently by an Israeli court: Already, a medical excuse is being alleged for the perpetrator, without regard for the fact that this is typical Jewish behavior in service to the essentially Jewish anti-Trump agenda, and without regard for the potentially catastrophic ramifications of the Jew's hoaxes for non-Jewish Americans.
But the important fact is that the world has been shown that it was a Jew who fabricated these "anti-Semitic incidents." The question of how this particular perpetrator will be punished is much less important than the question of whether our people will learn to be wise about Jewish behavior, because this is a problem that is not going away. Like President Trump, we should recognize the pattern of deception and refuse to be manipulated. President Trump is proven right again.
* * *
APPENDIX:
from today's Jewish Journal
Israeli-American teen arrested in Israel for over 100 JCC bomb threats
Israel's anti-fraud squad arrested the 19-year-old suspect at his home in southern Israel and searched the premises on Thursday. He also is accused of a series of threats made in Europe, Australia and New Zealand in the past six months, according to reports in Israel.
Israeli police said the teen has been the subject of months-long undercover investigation by the anti-fraud unit, as well as the FBI in the United States and law enforcement in other countries. He has lived in Israel for many years, Haaretz reported.
He appeared in court in Rishon Lezion on Thursday for a remand hearing, where he was ordered held over until March 30. His motives are unknown, according to reports.
Ynet, which reports that the teen is from Ashkelon, reported that during the hearing the teens attorney requested that he be placed under supervision after raising concern for his mental status, claiming that he might try to harm himself. The attorney told the court that the teen has had a brain tumor since the age of 14, and has been homeschooled since then. The attorney said that the tumor affects his behavior, Ynet reported.
The teen reportedly used advanced technology and voice-altering equipment to call in the threats to more than 100 JCCs, Jewish day schools and other Jewish institutions in the United States, according to The Times of Israel. He also is accused of making a threatening call to Delta Airlines, leading to the emergency landing of at least one plane.
During the cyber unit's raid on the teen's home, police found a computer lab with sophisticated equipment, encryption and transmission systems, and a powerful antenna, according to reports.
The army refused to draft the teen after finding him unfit for service, Haaretz reported.
His father also has been detained on suspicion that he knew about his son's activities, and ordered held in jail until March 30.
Israel's minister of public security, Gilad Erdan, commented on the teen's arrest.
"I congratulate the Israeli police on leading a complex international investigation, together with law enforcement agencies from around the world, which led to the arrest of the suspect," Erdan said. "We hope that this investigation will help shed light on some of the recent threats against Jewish institutions, which have caused great concern both among Jewish communities and the Israeli government."
Attorney General Jeff Sessions in a statement praised the work of the Israeli police and the FBI.
"The Department of Justice is committed to protecting the civil rights of all Americans, and we will not tolerate the targeting of any community in this country on the basis of their religious beliefs," Sessions said in the statement. "I commend the FBI and Israeli National Police for their outstanding work on this case."
Earlier this month, a St. Louis resident and former journalist, Juan Thompson, was arrested and charged for making at least eight bomb threats against Jewish community centers and the Anti-Defamation League.
Thompson, 31, made some of the threats in the name of a former romantic partner he had been cyberstalking and some in his own in an attempt to portray himself as being framed. He was charged with cyberstalking, which carries a maximum sentence of five years in prison.
* * *
Source: National-Socialist Worldview and Jewish Journal
* * *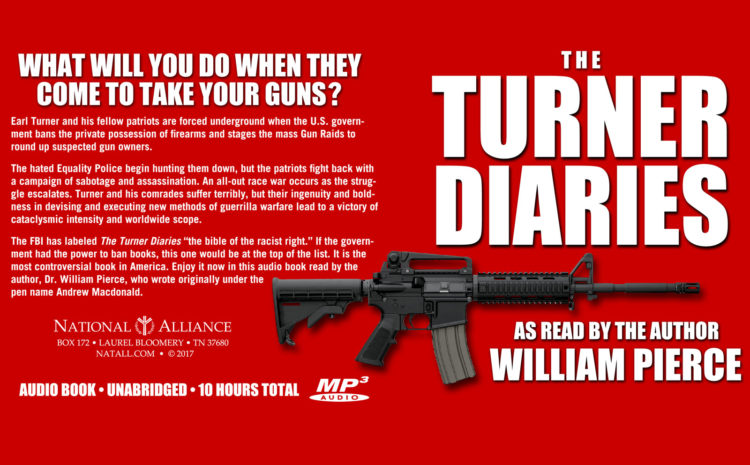 Listen: Turner Diaries commercial
OUR NEW, remastered audio book edition of The Turner Diaries read by the author, Dr. William Pierce, is now available. You can get your copy now — the CDs are are shipping as soon as orders come in.
The original recordings, made by Dr. Pierce and Kevin Strom on reel-to-reel tape in 1995, had been digitized in the early 2000s, but that digitization process was primitive compared to what we are capable of today; we have remastered this important work using the latest software — and we did it the careful, slow, difficult, craftsman-like way — the way Dr. Pierce would have wanted it.
We are proud to offer you the result, which can be ordered online via http://natall.com/td or by postal mail from National Alliance, Box 172, Laurel Bloomery TN 37680 USA. The fidelity of the disc is excellent: On a good speaker system, it sounds as if Dr. Pierce is with you, reading his book to you personally. There is nothing quite like hearing the man who created The Turner Diaries read it to you himself. And, by purchasing this mp3-CD, you will be supporting the important work of the National Alliance.
Listen: Turner Diaries commercial
* * *