A Few Things That Will Happen When the Power Grid Goes Down
As America is converted to a Third World country, the grid will become less and less reliable.
IMAGINE if you will, what would happen if you pulled an American family from the 19th century, and plopped them in the middle of downtown Los Angeles during rush hour. They're not given a warning, they're not given any kind of primer on what they're about to experience, and the occurrence is completely inexplicable. How long do you suppose they would last before they cried uncle? Would they even survive? The odds probably aren't so good.
Of course, the reverse is probably also true. If you and your family were wrenched from the comforts of the present and hurled back into a previous era, you might not fare so well either. Your survival odds would probably be a little better since you have hindsight and an understanding of germ theory. However, it would still be a pretty alien world for you. It would be littered with pitfalls that most modern people can't even imagine.
And that's why it's so important for everyone to prepare for the possibility that one day our grid could go down in a big way, whether it be from a terrorist attack, cyber attack, nuclear war, or solar flare. If our society suffered a widespread power failure that lasted for weeks or months, it would be no different for us than if we were suddenly sent back to the 1800s. It would be a strange and dangerous world, and for the average person, it would catch him or her off guard in the following ways:
In summary, law and order will break down at every level, and death will be around every corner.
* * *
Source: Ready Nutrition and National Vanguard correspondents
* * *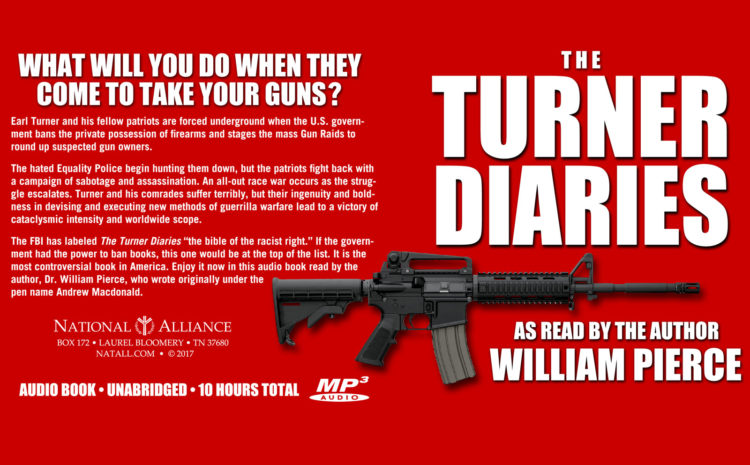 Listen: Turner Diaries commercial
OUR NEW, remastered audio book edition of The Turner Diaries read by the author, Dr. William Pierce, is now available. You can get your copy now — the CDs are are shipping as soon as orders come in.
The original recordings, made by Dr. Pierce and Kevin Strom on reel-to-reel tape in 1995, had been digitized in the early 2000s, but that digitization process was primitive compared to what we are capable of today; we have remastered this important work using the latest software — and we did it the careful, slow, difficult, craftsman-like way — the way Dr. Pierce would have wanted it.
We are proud to offer you the result, which can be ordered online via http://natall.com/td or by postal mail from National Alliance, Box 172, Laurel Bloomery TN 37680 USA. The fidelity of the disc is excellent: On a good speaker system, it sounds as if Dr. Pierce is with you, reading his book to you personally. There is nothing quite like hearing the man who created The Turner Diaries read it to you himself. And, by purchasing this mp3-CD, you will be supporting the important work of the National Alliance.
Listen: Turner Diaries commercial
* * *