Trump Appoints Gary Cohn, Another Goldman Sachs Jew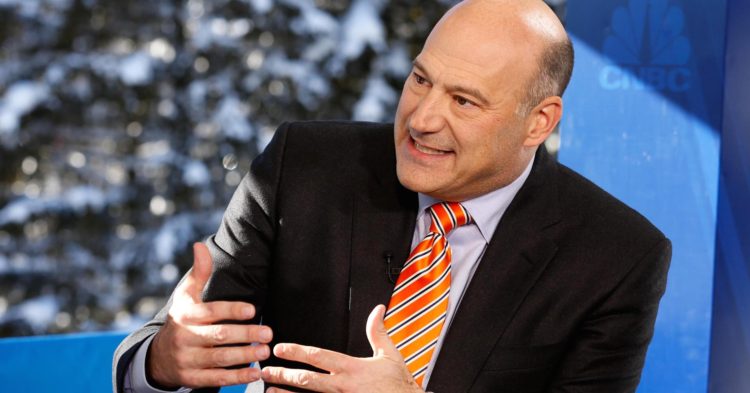 And three more Wall Street Jews to join Cohn and Mnuchin
IN THE HEAT of the presidential campaign, Donald Trump accused primary rival Ted Cruz of being controlled by Goldman Sachs because his wife, Heidi, previously worked for the Wall Street giant. He slammed Hillary Clinton for receiving speaking fees from the bank.
"I know the guys at Goldman Sachs. They have total, total control over him," Trump said of Cruz. "Just like they have total control over Hillary Clinton."
Now, Trump is putting Goldman executives at the helm of his administration's economic team. He's expected to name bank president Gary Cohn to an influential White House policy post, according to two people informed of the decision, and has already nominated former Goldman executive Steve Mnuchin to lead the Treasury Department. Steve Bannon, Trump's incoming White House senior adviser, also worked at Goldman before becoming a conservative media executive. …
* * *
Cohn is Jewish.
Trump also turned to some of Wall Street's biggest names to create a panel of business leaders that will give him strategic advice on the economy after he takes office, three of them — like Mnuchin and Cohn — also Jews.
Blackstone Group LP Chief Executive Officer Steve Schwarzman (a Jew) will chair the President's Strategic and Policy Forum, which will begin meeting with Trump in February, according to a statement Friday from his private equity firm. JPMorgan Chase & Co. CEO Jamie Dimon (a non-Jew) and BlackRock Inc. CEO Laurence Fink (a Jew), major donors to Democratic politicians, will also sit on the panel.
Schwarzman also worked with the current Obama administration.
Trump asked him to pick the group's members, Schwarzman said Friday in a Bloomberg Television interview, recounting his discussions with the president-elect and adding that the executives are hopeful their advice will benefit the country.
Dimon, 60, has led JPMorgan since 2005. Unlike competitors, it remained profitable during the financial crisis. A self-described Democrat who has advocated liberal positions, he's also the banking industry's most prominent defender and an occasional critic of its regulators.
He was at one time rumored to be under consideration as Trump's Treasury secretary. He did not endorse a candidate in the presidential election.
Fink, 64, has been critical of Trump in the past. He was once floated as a possible Treasury secretary under Obama or Hillary Clinton, had she defeated Trump.
Among other panel members is another Jew, Bob Iger of Walt Disney Co., well-known for producing films with degenerate and anti-White messages.
* * *
Source: New York Times, Bloomberg News, and National Vanguard correspondents
* * *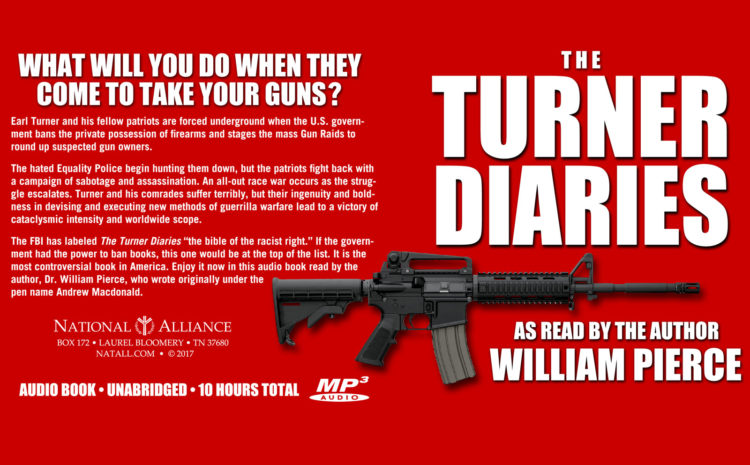 Listen: Turner Diaries commercial
OUR NEW, remastered audio book edition of The Turner Diaries read by the author, Dr. William Pierce, is now available. You can get your copy now — the CDs are are shipping as soon as orders come in.
The original recordings, made by Dr. Pierce and Kevin Strom on reel-to-reel tape in 1995, had been digitized in the early 2000s, but that digitization process was primitive compared to what we are capable of today; we have remastered this important work using the latest software — and we did it the careful, slow, difficult, craftsman-like way — the way Dr. Pierce would have wanted it.
We are proud to offer you the result, which can be ordered online via http://natall.com/td or by postal mail from National Alliance, Box 172, Laurel Bloomery TN 37680 USA. The fidelity of the disc is excellent: On a good speaker system, it sounds as if Dr. Pierce is with you, reading his book to you personally. There is nothing quite like hearing the man who created The Turner Diaries read it to you himself. And, by purchasing this mp3-CD, you will be supporting the important work of the National Alliance.
Listen: Turner Diaries commercial
* * *