Trump Nominates Hollywood/Goldman Sachs Jew to head Treasury Department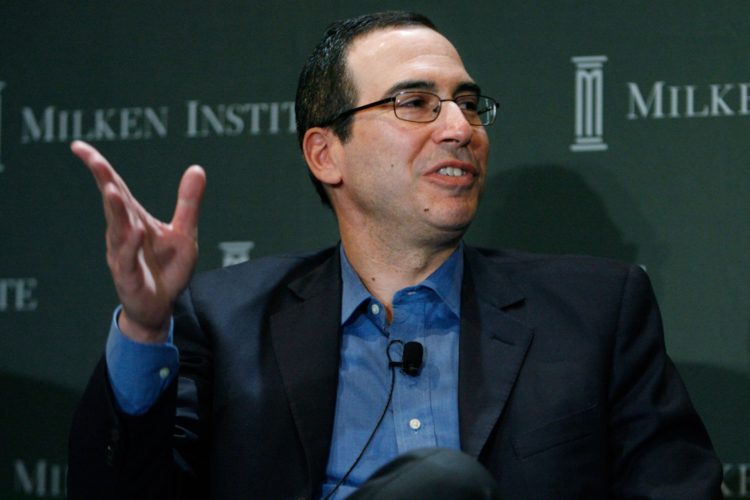 Steven Mnuchin has also been a banking partner of George Soros.
PRESIDENT-ELECT Donald Trump will nominate Steven Mnuchin to head the Treasury Department, one of the most senior positions in his administration, according to a person with knowledge of the situation but not authorized to speak publicly.
A film producer, banker and investor with no government experience who served as Trump's finance chairman during the campaign, Mnuchin is expected to be named to the Cabinet position Wednesday.
Mnuchin is a 17-year veteran of Wall Street powerhouse Goldman Sachs, where his father had served on the management committee. He left in 2002 and founded a hedge fund called Dune Capital Management. He also sits on the board of directors of retailing giant Sears Holding Corp. He had two companies that were involved in providing capital for movies such as the "X-Men" franchise and "Avatar."
He's sure to face questions about his banking ties in California, which suffered greatly during the housing crisis in 2008.
"Steven Mnuchin…made himself enormously wealthy by cashing in on the country's financial collapse," the group Americans for Financial Reform said in a statement Tuesday night. "He purchased a bailed-out bank for pennies on the dollar and then aggressively foreclosed on tens of thousands of families. Anyone concerned about Wall Street billionaires rigging the economy should be terrified by the prospect of a Treasury Secretary Mnuchin."
Consumer advocacy groups charge that Mnuchin as a banker exacerbated the foreclosure crisis in California. He led a group of powerful investors in 2009 that purchased the assets of failed lender IndyMac Bank, which had specialized in loans to weaker borrowers and was taken over by the government during the financial crisis. As part of the deal, the government agreed to absorb some of the potential losses.
From the ruins of IndyMac came OneWest Bank, based in Pasadena, Calif. It was owned by a holding company led by Mnuchin and composed of hedge fund giants. They included billionaire George Soros and John Paulson, who famously made billions betting on the collapse of housing finance. They were part of the plot of the book and movie The Big Short.
Just four years later, they all roughly doubled their investments when it was announced that New York-based CIT Group would purchase OneWest Bank for $3.4 billion. Mnuchin sits on the CIT board of directors. …
The treasury nominee also holds an unusual place in pop culture as financier of Hollywood hits.
The Warner Brothers movie The Accountant, in theaters now, was produced with Mnuchin's Ratpac-Dune Entertainment, and the new treasury nominee appears in the credits as an executive producer. Mnuchin also has a cameo in Rules Don't Apply, a movie directed by Warren Beatty and in theaters now. Mnuchin plays a Merrill Lynch executive in the film. Ironically, also in that movie is actor Alec Baldwin, whose portrayal of Trump on Saturday Night Live has angered the president-elect. …
* * *
Source: McClatchy DC
* * *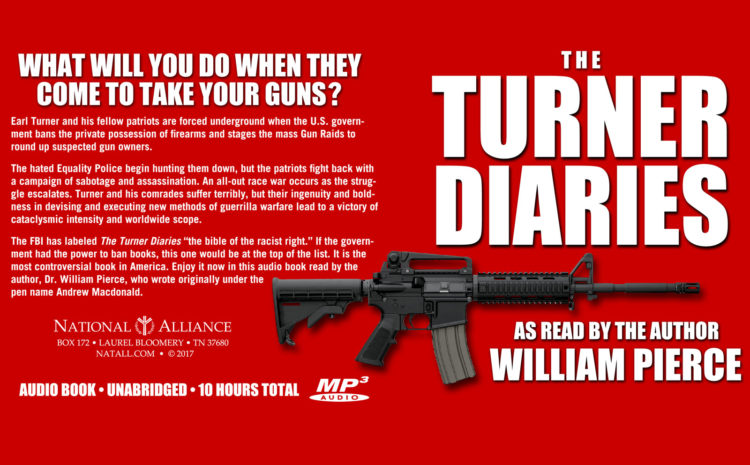 Listen: Turner Diaries commercial
OUR NEW, remastered audio book edition of The Turner Diaries read by the author, Dr. William Pierce, is now available. You can get your copy now — the CDs are are shipping as soon as orders come in.
The original recordings, made by Dr. Pierce and Kevin Strom on reel-to-reel tape in 1995, had been digitized in the early 2000s, but that digitization process was primitive compared to what we are capable of today; we have remastered this important work using the latest software — and we did it the careful, slow, difficult, craftsman-like way — the way Dr. Pierce would have wanted it.
We are proud to offer you the result, which can be ordered online via http://natall.com/td or by postal mail from National Alliance, Box 172, Laurel Bloomery TN 37680 USA. The fidelity of the disc is excellent: On a good speaker system, it sounds as if Dr. Pierce is with you, reading his book to you personally. There is nothing quite like hearing the man who created The Turner Diaries read it to you himself. And, by purchasing this mp3-CD, you will be supporting the important work of the National Alliance.
Listen: Turner Diaries commercial
* * *