Canada: Free Speech Meeting to Support Evalion Shut Down by Terrorist Vandals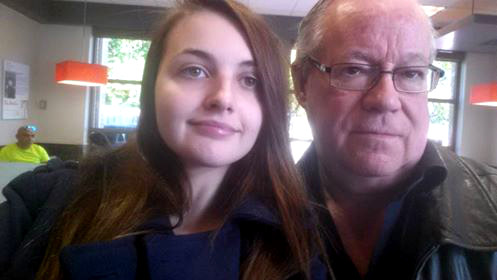 by Paul Fromm
NOT THAT "anti-racists" (anti-racism is a code word for anti-White) or Social Justice Warriors are any strangers to violence but they have become downright hysterical since the Trump Phenomenon.
The Alternative Forum and the Canadian Association for Free Expression (CAFE) had arranged for a meeting with Evalion. The meeting was to be hosted at the offices of Your Ward News. Evalion is a 19-year-old You Tube videographer. Active for the past eight months, she has accumulated over two million hits on her sassy, opinionated videos. She has taken shots at the so-called Holocaust, the Third World immigration and other forbidden subjects.
In early October, Canada's thought police (Canadian Border Services Agency branch)  held her for over eight hours and stole (uh, "detained") her laptop, power cord, computer case and several personal diaries and notebooks. B'nai Brith, among Canada's most fanatical thought control groups, is on her case and is demanding a police investigation and prosecution under Canada's notorious "hate" law.
She has also been the victim of serious Internet stalking and harassment. At the last minute, she was so pressured (she is still a teenager) that she cancelled her engagement. CAFE meetings never cancel.
However, when folks showed up tonight, they discovered that the offices of Your Ward News had been the object of terrorist vandalism. The locks on both front and rear doors had been vandalized. The manager of Your Ward News was unable to gain entry. And, as usual, there was the retarded sloganeering and tagging defacing the front of the building. Your Ward News has had its windows smashed so often that they are permanently boarded over.
Last week an unidentified  teenager was arrested in Ottawa for spray painting some nastiness on the window of the front door of a female rabbi and on a Negro church. A long parade of donkey-faced politicians rushed forward to denounce these acts. We won't hold our breaths for any similar sympathy for the interference with CAFE's right to hold a peaceful meeting.
An interesting clue to the possible identity of the perpetrators came from a colleague who arrived early, at 4:30. He took a snap of the anarchist graffiti. He noticed he was being watched. A man in his 20s, thin with dirty blonde hair was taking pictures and tried to take pictures of our colleague. He was being signalled by an older man in his 60s. He wore a red jacket, was chubby and had salt and pepper hair. Our colleague ducked into a neighbourhood restaurant. The photographer followed. When our colleague quickly left, the photographer also followed. Our colleague spun around and confronted the photographer. "Who are you? Why are you trying to take my picture?" he demanded. He is 6'3″.
The frightened youth's reply was: "I am just taking pictures. I want to be left alone."
* * *
Source: Canadian Association for Free Expression
* * *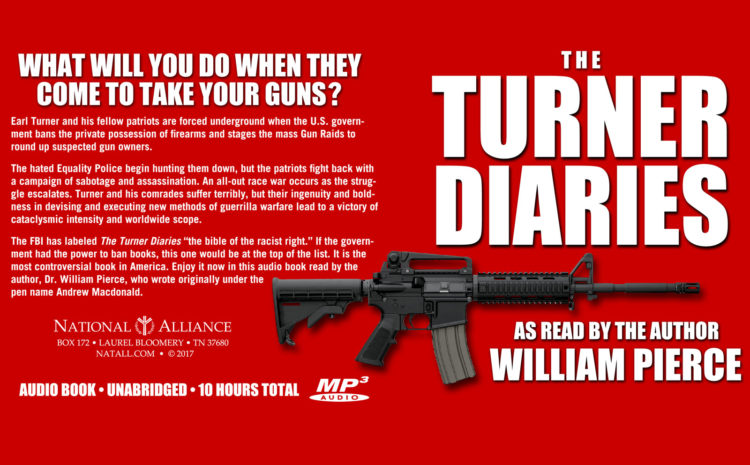 Listen: Turner Diaries commercial
OUR NEW, remastered audio book edition of The Turner Diaries read by the author, Dr. William Pierce, is now available. You can get your copy now — the CDs are are shipping as soon as orders come in.
The original recordings, made by Dr. Pierce and Kevin Strom on reel-to-reel tape in 1995, had been digitized in the early 2000s, but that digitization process was primitive compared to what we are capable of today; we have remastered this important work using the latest software — and we did it the careful, slow, difficult, craftsman-like way — the way Dr. Pierce would have wanted it.
We are proud to offer you the result, which can be ordered online via http://natall.com/td or by postal mail from National Alliance, Box 172, Laurel Bloomery TN 37680 USA. The fidelity of the disc is excellent: On a good speaker system, it sounds as if Dr. Pierce is with you, reading his book to you personally. There is nothing quite like hearing the man who created The Turner Diaries read it to you himself. And, by purchasing this mp3-CD, you will be supporting the important work of the National Alliance.
Listen: Turner Diaries commercial
* * *