We Are Not Alone: Zsolt Bayer's White Genocide Speech
ZSOLT Bayer, Hungarian author, journalist, publicist, is one of the founders of Fidesz, the current ruling political party of Hungary of which Prime Minister Viktor Orbán is the leader and founder. Fidesz was founded as a youthful underground anti-communist movement in the 1980s, and has grown into a well-respected and powerful conservative political force that holds unparalleled support in Hungary.
Zsolt Bayer and Viktor Orbán have been close friends for 30 years, and in mid-September 2015, a liberal left-wing George Soros-funded magazine Magyar Narancs, unveiled a tasteless and ignorant cover with Viktor Orbán wearing a Hitler mustache made out of barbed wire. Zsolt Bayer, coming to the defense of his friend, organized a rally attended by 2000 people before the offices of Magyar Narancs. He not only criticized the magazine and its supporters, but went out of his way to openly speak about that taboo reality: White genocide. He even drew attention to the Jewish professor who openly calls for an end to White people, Noel Ignatiev. He unfortunately chose to use "Nazi" as a smear word right back in the faces of his accusers and even accused them of trivializing "victims of the Holocaust" (showing a total — or pretended — misunderstanding of National Socialism and ignorance of the history of World War 2), but the speech is ground-breaking nevertheless. One also notes his reference to "hidden powers" and "pharisaic" ideas.
Observant viewers can see that the words, spoken some months ago, of Mr. Bayer — who is notorious for his sarcastic, fearless wit in his columns and blogs — are slowly being pulled into more public forums. In his own statements, Viktor Orbán himself has recently touched upon these subjects, hinting that he too is very well aware of the truth, but as a politician, must play the game.
* * *
 Source: National Vanguard correspondents
* * *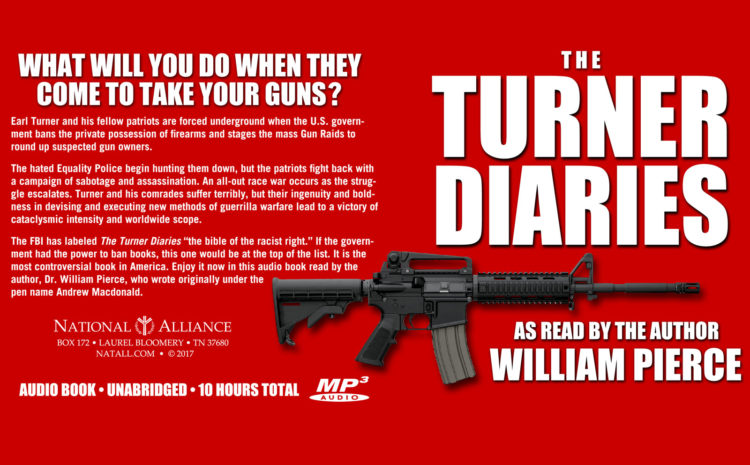 Listen: Turner Diaries commercial
OUR NEW, remastered audio book edition of The Turner Diaries read by the author, Dr. William Pierce, is now available. You can get your copy now — the CDs are are shipping as soon as orders come in.
The original recordings, made by Dr. Pierce and Kevin Strom on reel-to-reel tape in 1995, had been digitized in the early 2000s, but that digitization process was primitive compared to what we are capable of today; we have remastered this important work using the latest software — and we did it the careful, slow, difficult, craftsman-like way — the way Dr. Pierce would have wanted it.
We are proud to offer you the result, which can be ordered online via http://natall.com/td or by postal mail from National Alliance, Box 172, Laurel Bloomery TN 37680 USA. The fidelity of the disc is excellent: On a good speaker system, it sounds as if Dr. Pierce is with you, reading his book to you personally. There is nothing quite like hearing the man who created The Turner Diaries read it to you himself. And, by purchasing this mp3-CD, you will be supporting the important work of the National Alliance.
Listen: Turner Diaries commercial
* * *