"Stunning Victory for Rural America": Bundy Brothers Acquitted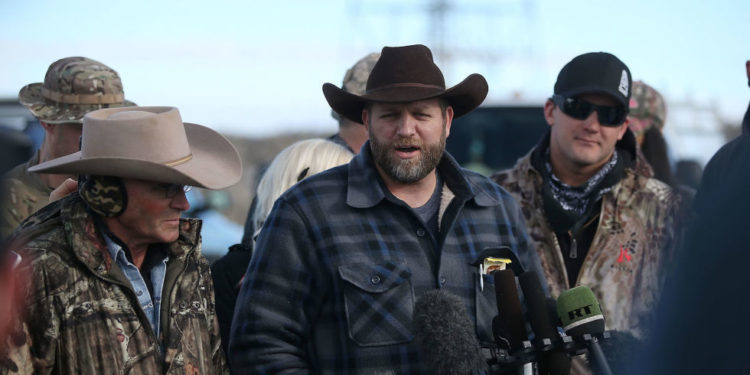 After amazing defeat for Washington regime, Bundys' Attorney demands their immediate release — and is tasered in open court
THE BUNDY BROTHERS remained in jail Friday following a dramatic acquittal a day earlier in a courtroom that erupted into chaos after an attorney yelled at a judge for their release, resulting in him being subdued with a stun gun and arrested.
A jury delivered an extraordinary blow to the government Thursday in a long-running battle over the use of public lands when it acquitted all seven defendants involved in the armed occupation of a national wildlife refuge in rural southeastern Oregon.
After the verdicts were read, an attorney for group leader Ammon Bundy demanded his client be immediately released and repeatedly yelled at the judge. U.S. marshals tackled attorney Marcus Mumford to the ground, used a stun gun on him several times and arrested him.
U.S. District Judge Anna Brown said she could not release Bundy because he still faces charges in Nevada stemming from an armed standoff at his father Cliven Bundy's ranch two years ago.
The Portland jury acquitted Bundy, his brother Ryan Bundy and five others of conspiring to impede federal workers from their jobs at the Malheur National Wildlife Refuge, 300 miles southeast of Portland. The jury could not reach a verdict on a single count of theft for Ryan Bundy.
Even attorneys for the defendants were surprised by the acquittals.
"It's stunning. It's a stunning victory for the defense," said Robert Salisbury, attorney for defendant Jeff Banta. "I'm speechless."
The U.S Attorney in Oregon, Billy J. Williams, issued a statement defending the decision to bring charges against the seven defendants: "We strongly believe that this case needed to be brought before a Court, publicly tried, and decided by a jury."
The Oregon case is a continuation of the tense standoff with federal officials at Cliven Bundy's ranch in 2014. Cliven, Ammon and Ryan Bundy are among those who are to go on trial in Nevada early next year for that standoff.
While the charges in Oregon accused defendants of preventing federal workers from getting to their workplace, the case in Nevada revolves around allegations of a more direct threat: An armed standoff involving dozens of Bundy backers pointing weapons, including assault-style rifles, at federal Bureau of Land Management agents and contract cowboys rounding up cattle near the Bundy ranch outside Bunkerville.
Daniel Hill, attorney for Ammon Bundy in the Nevada case, said he believed the acquittal in Oregon bodes well for his client and the other defendants facing felony weapon, conspiracy and other charges.
"When the jury here hears the whole story, I expect the same result," Hill told The Associated Press in Las Vegas. Hill also said he'll seek his client's release from federal custody pending trial in Nevada.
U.S. Attorney Daniel Bogden in Nevada, however, said the acquittals in Portland should have no effect in the Las Vegas case. "The Oregon case and charges are separate and unrelated to the Nevada case and charges," Bogden said.
Ammon Bundy and his followers took over the Oregon bird sanctuary on Jan. 2. They objected to prison sentences handed down to Dwight and Steven Hammond, two local ranchers convicted of setting fires. They demanded the government free the father and son and relinquish control of public lands to local officials.
The Bundys and other key figures were arrested in a Jan. 26 traffic stop outside the refuge that ended with police fatally shooting Robert "LaVoy" Finicum, an occupation spokesman. Most occupiers left after his death, but four holdouts remained until Feb. 11, when they surrendered following a lengthy negotiation.
Federal prosecutors took two weeks to present their case, finishing with a display of more than 30 guns seized after the standoff. An FBI agent testified that 16,636 live rounds and nearly 1,700 spent casings were found.
During trial, Bundy testified that the plan was to take ownership of the refuge by occupying it for a period of time and then turn it over to local officials to use as they saw fit.
Bundy also testified that the occupiers carried guns because they would have been arrested immediately otherwise and to protect themselves against possible government attack.
The bird sanctuary takeover drew sympathizers from around the West.
It also drew a few protesters who were upset that the armed occupation was preventing others from using the land. They included Kieran Suckling, executive director of the Center for Biological Diversity, who called the acquittals disturbing.
"The Bundy clan and their followers peddle a dangerous brand of radicalism aimed at taking over lands owned by all of us. I worry this verdict only emboldens the kind of intimidation and right-wing violence that underpins their movement," Suckling said.
One of Ammon Bundy's attorneys, Morgan Philpot, had a different perspective after watching Mumford get tackled by marshals. "His liberty was just assaulted by the very government that was supposed to protect it, by the very government that just prosecuted his client — unjustly as the jury found."
There's another Oregon trial coming up over the wildlife refuge.
Authorities had charged 26 occupiers with conspiracy. Eleven pleaded guilty, and another had the charge dropped. Seven defendants chose not to be tried at this time. Their trial is scheduled to begin Feb. 14.
* * *
Source: FOX News
* * *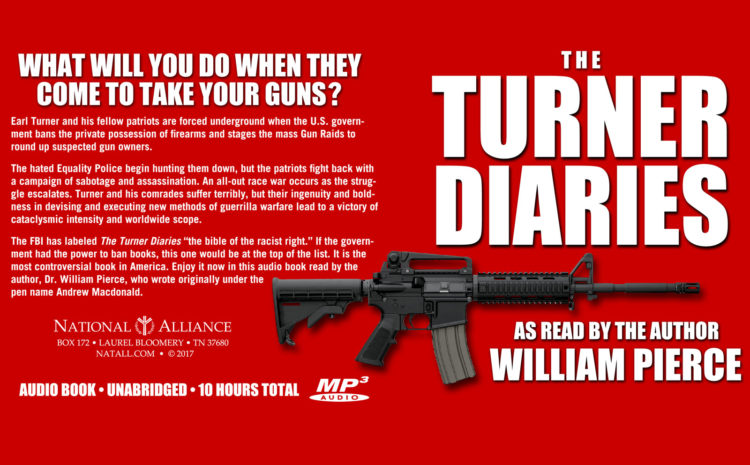 Listen: Turner Diaries commercial
OUR NEW, remastered audio book edition of The Turner Diaries read by the author, Dr. William Pierce, is now available. You can get your copy now — the CDs are are shipping as soon as orders come in.
The original recordings, made by Dr. Pierce and Kevin Strom on reel-to-reel tape in 1995, had been digitized in the early 2000s, but that digitization process was primitive compared to what we are capable of today; we have remastered this important work using the latest software — and we did it the careful, slow, difficult, craftsman-like way — the way Dr. Pierce would have wanted it.
We are proud to offer you the result, which can be ordered online via http://natall.com/td or by postal mail from National Alliance, Box 172, Laurel Bloomery TN 37680 USA. The fidelity of the disc is excellent: On a good speaker system, it sounds as if Dr. Pierce is with you, reading his book to you personally. There is nothing quite like hearing the man who created The Turner Diaries read it to you himself. And, by purchasing this mp3-CD, you will be supporting the important work of the National Alliance.
Listen: Turner Diaries commercial
* * *