Pure Hatred, Regretfulness, and Bitterness
by Varg Vikernes
HERE IN FRANCE, we get so much positive feedback from the Frenchmen we meet in relation to our children. Everybody seems to love blonde and blue-eyed children here. Except one group: female boomers.
Whenever we are somewhere with our children and we meet some female boomers, they have this sour look on their face. They look on my wife as if she has betrayed them somehow and they view this large family with contempt.
Another thing I've noticed in relation to boomers in general, is that they often try to sneak in the line and try to get ahead of you. Even when we have a pregnant woman with four children in a line, they will try to get ahead of my wife.
Of course, you have some very, very few exceptions, but as a general rule, female boomers are just completely messed up. The older women are extremely positive when they see my family. The younger women are also extremely positive; and pretty much every single male we meet is positive: "I think it's good. Ahhh, a big family of White children!"
But not the female boomers; they hate it. When it comes to the boomer men I have another observation that I think is pretty accurate. Namely that the male boomers look like dogs on a leash. They are walking — as if they are completely subjugated, crushed human beings — along with their boomer wives. And it's scary. They have no backbone. They are just like dogs on a leash. It's terrible to watch.
And when we meet these female boomers who show extreme hostility towards my pregnant wife and our blonde children, these men don't want to look at you in your face. You can tell that they don't agree with their wives — but they don't have the guts to stand up against her and state their opinion. However, when you meet them alone, they are extremely positive, just like everybody else. Everybody in France loves blonde children with blue eyes because that's their heritage as well.
In addition to the extreme brainwashing they were exposed to, I think actually the main reason for these female boomers to be so bitter and aggressive and hostile to European large families, is that they never had a large family themselves (they had — maybe — one or two children) and they regret it.
* * *
Source: Thulean Perspective
* * *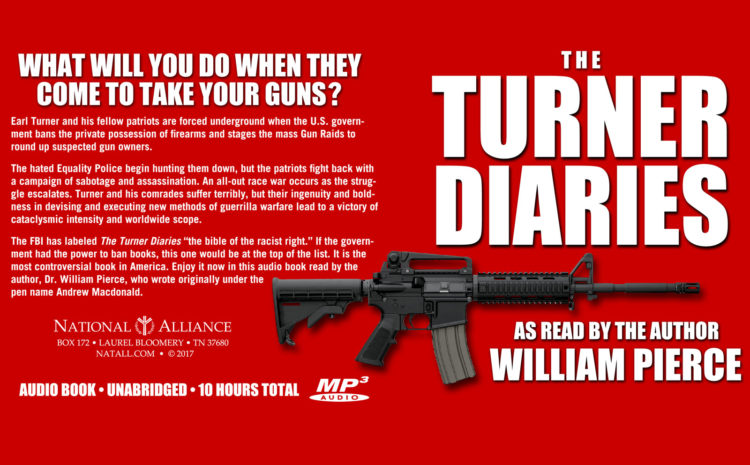 Listen: Turner Diaries commercial
OUR NEW, remastered audio book edition of The Turner Diaries read by the author, Dr. William Pierce is now available. You can get your copy now — the CDs are are shipping as soon as orders come in.
The original recordings, made by Dr. Pierce and Kevin Strom on reel-to-reel tape in 1995, had been digitized in the early 2000s, but that digitization process was primitive compared to what we are capable of today; we have remastered this important work using the latest software — and we did it the careful, slow, difficult, craftsman-like way — the way Dr. Pierce would have wanted it.
We are proud to offer you the result, which can be ordered online via http://natall.com/td or by postal mail from National Alliance, Box 172, Laurel Bloomery TN 37680 USA. The fidelity of the disc is excellent: On a good speaker system, it sounds as if Dr. Pierce is with you, reading his book to you personally. There is nothing quite like hearing the man who created The Turner Diaries read it to you himself. And, by purchasing this mp3-CD, you will be supporting the important work of the National Alliance.
Listen: Turner Diaries commercial
* * *