Hillary Clinton, Candidate of Billionaire Jews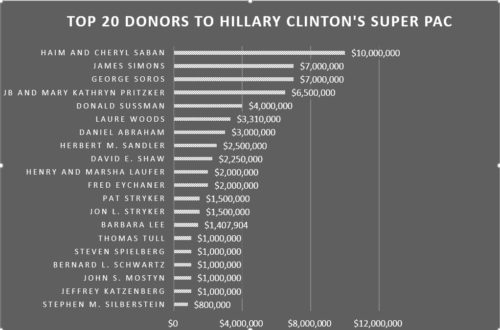 by Hadding Scott
THIS IMAGE is from Forbes of 27 May 2016. The accompanying article says that 80% of the donations to the pro-Hillary super-pac, Priorities USA Action, comes from these donors. No doubt, if she is elected, she will be overwhelmingly obligated to these Jews, and their agenda will continue to be served as it has been under the several preceding U.S. presidents.
Haim Saban, at the top of the list, is an Israeli Jew who has said: "I'm a one-issue guy, and my issue is Israel." Expect more expensive Middle-East wars if his candidate wins.
James Simons is a Jewish hedge-fund manager. With his bought politician Hillary Clinton as President, his ilk will enjoy a free hand to rape the U.S. economy.
The prominence of Jew George Soros as a donor will be reflected in the continuation of absurd indulgence for Black Lives Matter. The domestic race-war will expand and escalate.
While the top donation to the pro-Hillary super-pac is $10 million from an Israeli Jew, the top donation to the pro-Trump Great America PAC is $250,000 from a real-estate company (source). The larger donations in support of Trump come especially from the real-estate industry.
* * *
Source: National-Socialist Worldview
* * *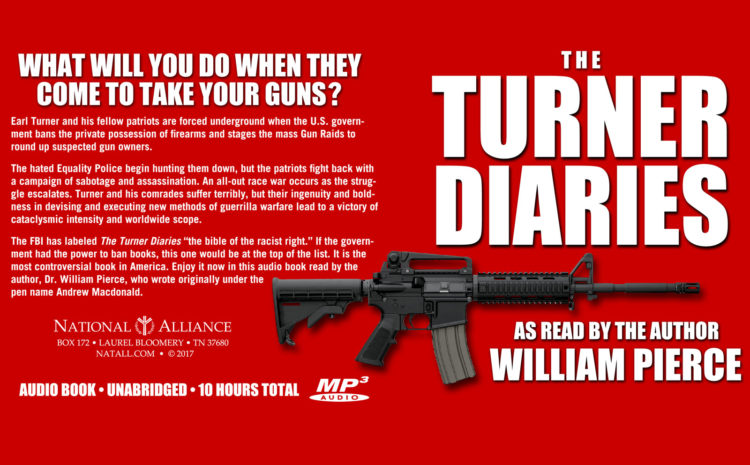 Listen: Turner Diaries commercial
OUR NEW, remastered audio book edition of The Turner Diaries read by the author, Dr. William Pierce, is now available. You can get your copy now — the CDs are are shipping as soon as orders come in.
The original recordings, made by Dr. Pierce and Kevin Strom on reel-to-reel tape in 1995, had been digitized in the early 2000s, but that digitization process was primitive compared to what we are capable of today; we have remastered this important work using the latest software — and we did it the careful, slow, difficult, craftsman-like way — the way Dr. Pierce would have wanted it.
We are proud to offer you the result, which can be ordered online via http://natall.com/td or by postal mail from National Alliance, Box 172, Laurel Bloomery TN 37680 USA. The fidelity of the disc is excellent: On a good speaker system, it sounds as if Dr. Pierce is with you, reading his book to you personally. There is nothing quite like hearing the man who created The Turner Diaries read it to you himself. And, by purchasing this mp3-CD, you will be supporting the important work of the National Alliance.
Listen: Turner Diaries commercial
* * *