Royce Mann, Boy Who Recited 'White Privilege' Poem, Revealed to be Jewish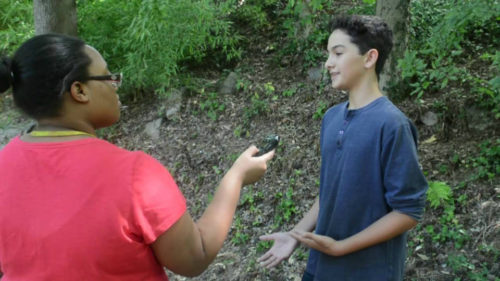 NOW I REALIZE that it's quite possible to find 14-year old White boys who, having endured a standard American education, would deplore their White privilege — that they are an "ethnomasochists" as John Derbyshire would have it. But it also seems to me that it's more likely that such sentiments would come from a Jewish boy raised in the home of left-wing Jewish activists.
I am not sure that Royce Mann, the 14-year-old performance prodigy who won a poetry competition for deploring his "White privilege," is Jewish (update: actually, I'm quite certain now; see Addendum below), but I'll bet money on it. All the stereotypes are there. Common Jewish last name, mother a leftist activist who works in Hollywood as an actress, dad named Barry Mann who "speaks bits" of Hebrew and has visited Jerusalem.
https://www.youtube.com/watch?v=ALp8CmZLZ-A
Breitbart notes that
Royce's mother, Sheri Mann Stewart, is a prominent social justice activist and registered Democrat. She has posed publicly with Democratic presidential candidate Hillary Clinton and can frequently be seen posting on Twitter using the Black Lives Matter hashtag, attacking the NRA, and promoting her son's "white boy privilege" performance video.
Dad is also a social justice warrior dedicated to "common humanity," a theme that I rather doubt he picked up during his stay in Jerusalem, where borders and group boundaries are taken quite seriously, but a very common pose among diaspora Jews in the West.
He instills in his work a sense of the common humanity that transcends cultures and borders, and the responsibility that we all share to work toward social justice through the exchange of ideas, stories, and experiences.
The Mann's other son, Tendal, has been cast as Jewish in several films. He was honored for his acting at the Atlanta Jewish Film Festival and the Los Angeles Jewish Film Festival in Who Do You Love, about Jewish brothers in the music business, directed by Jerry Zaks. Tendal also had a role as "Holocaust boy" in Auschwitz Block 10 in the Spielberg Shorts Competition, directed by Jason Dannenberg.
Royce acknowledges that he is privileged, and, as a student at Paideia School in Atlanta (tuition $~23,000), he certainly is. Perhaps he would honor us with a poem on Jewish privilege.
Any further information appreciated.
Addendum: A commenter, Henry, points out that Paideia School celebrates Yom Kippur and Rosh Hashanah, but no Christian holidays. Looks like case closed.
* * *
Source: Red Ice 
* * *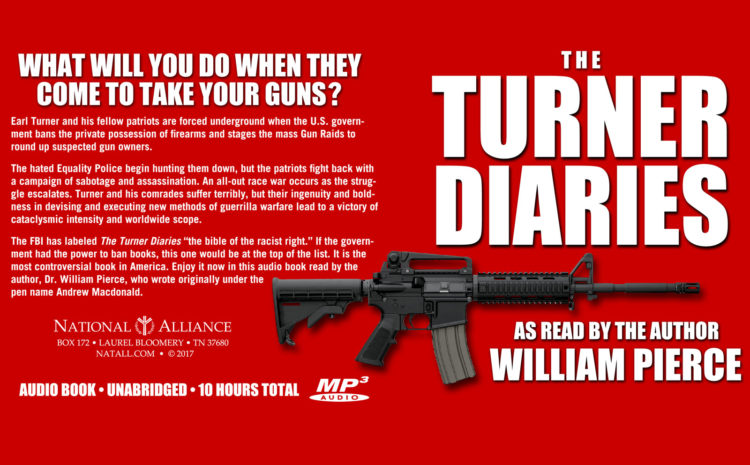 Listen: Turner Diaries commercial
OUR NEW, remastered audio book edition of The Turner Diaries read by the author, Dr. William Pierce, is now available. You can get your copy now — the CDs are are shipping as soon as orders come in.
The original recordings, made by Dr. Pierce and Kevin Strom on reel-to-reel tape in 1995, had been digitized in the early 2000s, but that digitization process was primitive compared to what we are capable of today; we have remastered this important work using the latest software — and we did it the careful, slow, difficult, craftsman-like way — the way Dr. Pierce would have wanted it.
We are proud to offer you the result, which can be ordered online via http://natall.com/td or by postal mail from National Alliance, Box 172, Laurel Bloomery TN 37680 USA. The fidelity of the disc is excellent: On a good speaker system, it sounds as if Dr. Pierce is with you, reading his book to you personally. There is nothing quite like hearing the man who created The Turner Diaries read it to you himself. And, by purchasing this mp3-CD, you will be supporting the important work of the National Alliance.
Listen: Turner Diaries commercial
* * *