Loyalty and Support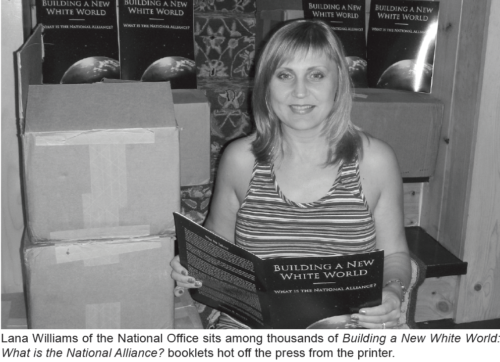 by William White Williams
Chairman, National Alliance
WHEN I MET my wife Svetlana in Russia in 2003, she was given full disclosure of my "Politically Incorrect" racial politics. Although apolitical, Lana married me anyway — but told me she couldn't be my Krupskaya. (Vladimir Lenin's wife, Nadezhda, the ultimate fanatical revolutionary mate.) (ILLUSTRATION: Svetlana Williams looking at a new shipment of Building a New White World, just arrived from the printer)
After years of listening to me discuss racial politics and learning about my association with Dr. Pierce and the Alliance, she came to realize that all I'd been telling her was true.
Look at Lana now; working daily at Alliance-building as an unpaid volunteer, absolutely dedicated to Our Cause. She accepted that the libraries I'd bought were worth divesting our "nest egg." She even accepted, once committed, my spending the settlement from a lawsuit, and more of our savings, to pay considerable Alliance debts and past taxes that had accrued under my predecessor. There wasn't much left of our savings after that. I'm so proud to have had Lana stand by me. How did I get so lucky?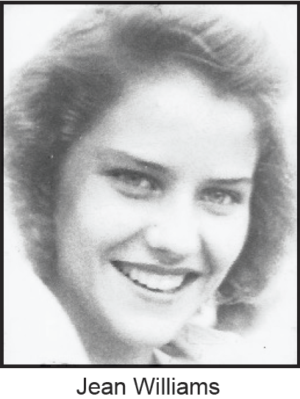 Had my dear mother not died on New Year's Eve and left to me a third of her meager estate, the Alliance might have already gone under because dues receipts haven't been sufficient to pay our mounting operating costs. I have put approximately $7,000 from my mother's bequest to me into our Alliance in one month alone.
My mother always supported my work as a radical political soldier for our race. (Other family members did not, for fear that it would embarrass them in the eyes of others and bring disapproval, not to mention hardship.) She met Dr. Pierce and Kevin Strom, David Duke, Ben Klassen, Gary Gallo, Gordon Ipock, Ron Doggett, and so many other outstanding leaders. She knew that what I was doing during all those years of struggle and disappointment was necessary and right.
She once said, "Just because others don't believe you doesn't mean you are wrong, son." So, please forgive this personal tribute to Jean Boring Williams, my dear departed mother, daughter of Ward and Naomi, who managed to live to the ripe old age of 91. She was the epitome of Aryan womanhood and would be happy to know that, as things have turned out, she helped to rebuild the National Alliance.
Now, racial compatriots, let's use whatever means we have at our disposal to raise our numbers. Responsible family members, friends, associates, neighbors — you know the kind of people we need. And you know your duty.
* * *
Source: National Alliance BULLETIN
* * *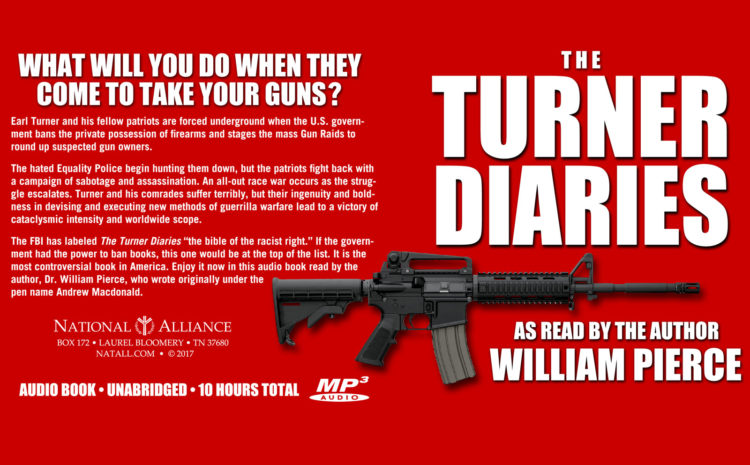 Listen: Turner Diaries commercial
OUR NEW, remastered audio book edition of The Turner Diaries read by the author, Dr. William Pierce, is now available. You can get your copy now — the CDs are are shipping as soon as orders come in.
The original recordings, made by Dr. Pierce and Kevin Strom on reel-to-reel tape in 1995, had been digitized in the early 2000s, but that digitization process was primitive compared to what we are capable of today; we have remastered this important work using the latest software — and we did it the careful, slow, difficult, craftsman-like way — the way Dr. Pierce would have wanted it.
We are proud to offer you the result, which can be ordered online via http://natall.com/td or by postal mail from National Alliance, Box 172, Laurel Bloomery TN 37680 USA. The fidelity of the disc is excellent: On a good speaker system, it sounds as if Dr. Pierce is with you, reading his book to you personally. There is nothing quite like hearing the man who created The Turner Diaries read it to you himself. And, by purchasing this mp3-CD, you will be supporting the important work of the National Alliance.
Listen: Turner Diaries commercial
* * *