Latest Pierce CD, Volume 4, Now Available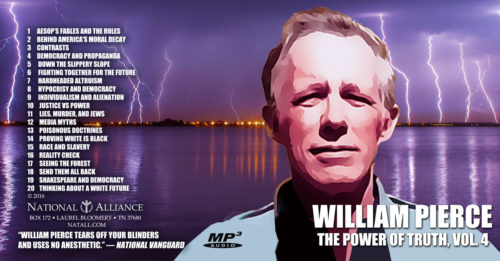 THE NATIONAL ALLIANCE has now produced the fourth volume in our series of the best of Dr. William Pierce's speeches and radio broadcasts — William Pierce: The Power of Truth, Volume 4.
This new mp3-CD volume contains the following works by Dr. Pierce:
1. Aesop's Fables and the Rules
2. Behind America's Moral Decay
3. Contrasts
4. Democracy and Propaganda
5. Down the Slippery Slope
6. Fighting Together for the Future
7. Hardheaded Altruism
8. Hypocrisy and Democracy
9. Individualism and Alienation
10. Justice vs Power
11. Lies, Murder, and Jews
12. Media Myths
13. Poisonous Doctrines
14. Proving White is Black
15. Race and Slavery
16. Reality Check
17. Seeing the Forest
18. Send them All Back
19. Shakespeare and Democracy
20. Thinking about a White Future
These mp3-CDs play far longer than an ordinary CD and are a bargain by far when compared with the prices at which these speeches were originally offered. The audio on the CDs has been significantly cleaned up and the very professional, polished appearance of the entire package makes them a superb, impressive recruiting tool.
By purchasing this CD you will also have the satisfaction of supporting the National Alliance, American Dissident Voices, and the National Alliance Radio Network.
You can get your copy of volume 4 of this series for $16, or get five copies of the CD for $50, by writing to our postal address (Box 172, Laurel Bloomery TN 37680; make checks payable to the National Alliance) or order online by clicking your choice below:
Buy one copy of William Pierce: The Power of Truth, Vol. 4 CD for $16
Buy five copies of William Pierce: The Power of Truth, Vol. 4 CD for $50
* * *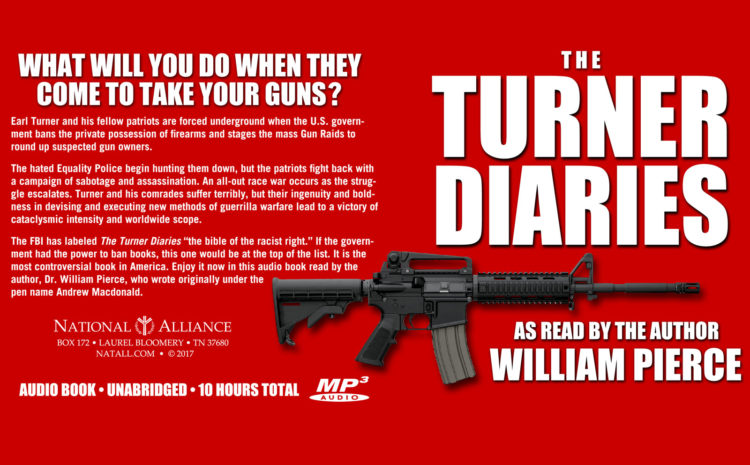 Listen: Turner Diaries commercial
OUR NEW, remastered audio book edition of The Turner Diaries read by the author, Dr. William Pierce, is now available. You can get your copy now — the CDs are are shipping as soon as orders come in.
The original recordings, made by Dr. Pierce and Kevin Strom on reel-to-reel tape in 1995, had been digitized in the early 2000s, but that digitization process was primitive compared to what we are capable of today; we have remastered this important work using the latest software — and we did it the careful, slow, difficult, craftsman-like way — the way Dr. Pierce would have wanted it.
We are proud to offer you the result, which can be ordered online via http://natall.com/td or by postal mail from National Alliance, Box 172, Laurel Bloomery TN 37680 USA. The fidelity of the disc is excellent: On a good speaker system, it sounds as if Dr. Pierce is with you, reading his book to you personally. There is nothing quite like hearing the man who created The Turner Diaries read it to you himself. And, by purchasing this mp3-CD, you will be supporting the important work of the National Alliance.
Listen: Turner Diaries commercial
* * *