Report on Norman Spack, Jewish "Transgender Doctor"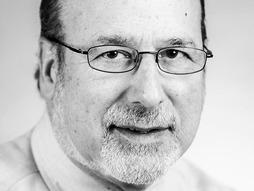 Children or other sensitive people should not read this disturbing report. Consider this report in the light of the Jewish strategy of promoting all kinds of sexual activities — so long as those activities do not lead to the birth of White children.

DR. NORMAN Spack (pictured) is head of the Gender Management Service Clinic at Children's Hospital Boston, unique in the country. Dr. Spack is also a trustee of Hebrew College in Newton. But look at the other company he keeps:
Dr. Spack presented a workshop at a radical conference promoting total sexual freedom and dangerous perversions, "Transcending Boundaries" in Worcester. It was organized by transgender radicals and PFLAG and co-sponsored by the New England Leather Alliance (NELA = a "bondage" and torture crowd) [see notes below]. How many physicians would be part of a conference where they also held workshops entitled:
• SM101 (Not a "How To" but a "What! Huh?"): How to Talk About BDSM/Leather/Fetish – For Allies, Families, and Professionals [i.e., Bondage & Discipline, Sadomasochism, whips, chains, ropes]
• Polyamory 101 [group sex, multiple partners]
• Legal Issues and Being Kinky: Oil and Water! New England Leather Alliance [how to avoid law enforcement & legal problems when engaging in torture, etc.]
• Bi Men: Coming Out Every Which Way
• Queercrips: We Do Exist, We Do Have Sex, and We Can Be Really Hot [still looking for definition of "queercrips"]
Here's a seminar Dr. Spack gave (co-sponsored by the radical "LGBT" Stonewall Center at UMass Amherst). He seems to consider it ethical to offer treatment for "relief" from "socially imposed or psychological/physical distress," including "puberty delaying interventions."
Dr. Norman Spack, (Senior Endocrinologist, Children's Hospital & Harvard Med School, Boston, MA): Ethical and Treatment Dilemmas in Intersex or Gender-Variant Children and Adolescents: Children and adolescents struggling with gender identity issues present to their families and health care providers wanting relief from socially imposed or psychological/physical distress. Medical interventions must take into account the child's physical, emotional and gender identity developmental needs. Families and their providers often struggle to determine the right course of treatment for children exhibiting gender variance as well as those who present with intersex conditions (disorders of sex development). Dr. Spack will share his perspective and answer questions on what it means to initiate medical treatment, such as puberty delaying interventions, for children and adolescents.
We first encountered Dr. Spack back in 2005, when he advocated for "encouraging" a "transitioning" elementary school student in Methuen, MA, calling the lives of young people who overcame such "gender identity" disorders and married and had children "a sham." The highly respectable Children's Hospital Web site posted this:
New clinic addresses intersex and gender issues … Unique in the Western hemisphere, the clinic will also care for children and young adults who present as transgendered — those who have no known anatomic or biochemical disorder, yet feel like a member of the opposite sex. Such feelings can emerge early, even in the preschool years, and can cause considerable psychological distress. For that reason, transgendered young people are often assumed to have a psychiatric disorder and are placed on psychotropic medications. By late adolescence, a high percentage have attempted suicide. "This will be the first major program in the country that is not only treating DSDs [disorders of sexual differentiation — actual physical abnormalities at birth, or "intersex"], but also welcoming young people who appear to be transgendered and are considering medical protocols that might help them," says Dr. Spack.
On Dr. Spack, from an international conference on "endocrinological intervention in the gender identity development treatment of adolescents":
The USA: Three eminent American clinicians have made comments on the early suspension of puberty: … 3 – Dr Norman Spack, at the Children's Hospital Boston has stated … that "Children's Hospital Boston has just assembled an Interdisciplinary Gender Team which I am co-chairing along with Paed Urologist Dr. David Diamond (Endocrinology, Urology, Genetics, Ethics, Psychology, Neonatology, Gynaecology) that will soon see patients jointly and collaborate in evaluation and research on appropriate patients, from DSD (Disorders of Sex Development) to Transgenderism. It was not I but the entire group that insisted that Gender Identity Disorders be included in the clinical program. We are awaiting approval from our Institutional Review Board and the FDA to acquire already-offered free GnRH analogue for clinical use in carefully selected Tanner 2 transgendered teens."
So there's apparently a group of transgender advocates at Children's Hospital. And what role exactly does the FDA play in approving these drug treatments for "transgender teens"?
NOTES
On PFLAG and NELA: Remember that PFLAG is the group with the largest representation on the Massachusetts state "Commission on Gay and Lesbian Youth." PFLAG is really pushing hard on "transgender children". The BDSM advocates at PFLAG's conference, New England Leather Alliance (NELA), held a convention at the Sheraton Danvers which we reported on. NELA presented this lecture:
LAYERED PAIN: EXTREME TORTURE — This presentation will explore and discuss various types of layered pain. This type of edge play requires using extreme safety precautions and seasoned bottoms. Often this type of play involves body fluids such as lymph and blood. It goes beyond the uni-sensation scene and explodes the possibilities….
NELA has new classes on "Vaginal Fisting 101" and "Japanese Inspired Rope Bondage". On the "fisting" class:
Want to get a 'hand' in? Ever thought about 'human hand puppets'? Well, join us to learn about vaginal fisting. With a hands IN approach! There will be a demo and handOUTs too! SUSIEQ is a bisexual switch from NY, who has been in the scene for over 10 years. She is active in TES, Lesbian Sex Mafia (LSM), NYSMA, Leather Pride Night (LPN), Leather Leadership Conference (LLC), DefendersNY, and the swing scene.
These are the kinds of venues and organizations with which the good Dr. Spack associates.
* * *
Source: Mass Resistance and National Vanguard correspondents
* * *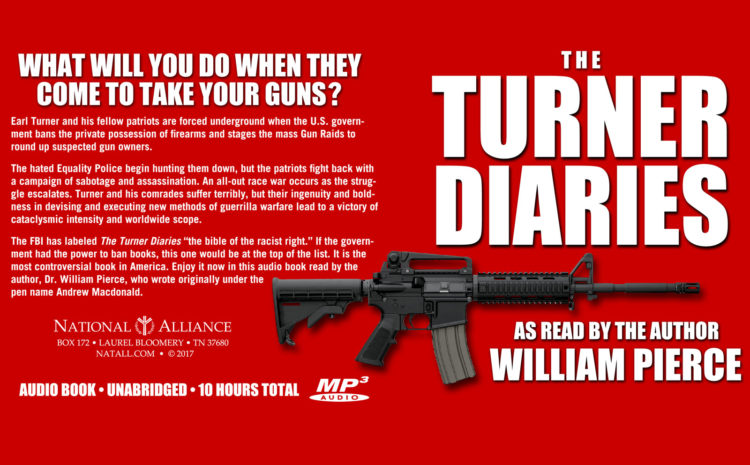 Listen: Turner Diaries commercial
OUR NEW, remastered audio book edition of The Turner Diaries read by the author, Dr. William Pierce, is now available. You can get your copy now — the CDs are are shipping as soon as orders come in.
The original recordings, made by Dr. Pierce and Kevin Strom on reel-to-reel tape in 1995, had been digitized in the early 2000s, but that digitization process was primitive compared to what we are capable of today; we have remastered this important work using the latest software — and we did it the careful, slow, difficult, craftsman-like way — the way Dr. Pierce would have wanted it.
We are proud to offer you the result, which can be ordered online via http://natall.com/td or by postal mail from National Alliance, Box 172, Laurel Bloomery TN 37680 USA. The fidelity of the disc is excellent: On a good speaker system, it sounds as if Dr. Pierce is with you, reading his book to you personally. There is nothing quite like hearing the man who created The Turner Diaries read it to you himself. And, by purchasing this mp3-CD, you will be supporting the important work of the National Alliance.
Listen: Turner Diaries commercial
* * *