Iowa: Drunken, Violent Negro Attacks Whites, Then Claims to be "Hate Crime" Victim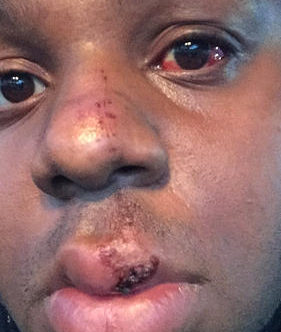 A BLACK University of Iowa student from Naperville lied about being the victim of a hate crime and was actually an aggressor during several drunken fights that began inside a bar, police said Tuesday.
Marcus Owens (pictured), 19, told police that he was attacked in an alley April 30 by three white men who hurled racial slurs and beat him, damaging his eye socket, knocking out his front teeth and cutting his lips. The claim stoked safety concerns and exposed "minority" students' distrust of university leaders.
But a two-week investigation by Iowa City Police found that a heavily intoxicated Owens was an instigator during several altercations that began inside the Eden Lounge early May 1 and continued in downtown streets. One of the fights involved Owens and some of his friends beating someone who used a racial epithet, police said.
Police said Tuesday that Owens, a 2015 graduate of Waubonsie Valley High School in Aurora, would not face charges for filing a false report, fighting or underage drinking, and that they would not seek restitution to recover the costs of their investigation. They said they wanted to avoid lengthy court proceedings in the case that shook the normally quiet college town.
"It became clear at some point that the community, not Marcus, was the victim in this event and it was important to us to get the truth out there," said Capt. Troy Kelsay, who called Owens a "liar" at a news conference.
Owens and his family said in a letter released by the department that his account was inconsistent partly due to alcohol being involved. The family issued an apology in the letter.
"Marcus Owens and the entire Owens family would like to issue their deepest apologies to Marcus's friends, the Iowa City community, the University of Iowa, and the Iowa City Police Department for the misunderstandings and anxiety stemming from Marcus's involvement in a violent incident in downtown Iowa City on May 1," the letter said. "Just as we have learned many life-changing lessons, we hope too that the community will continue to examine the many issues raised by this unfortunate incident."
Police praised Owens and his family for issuing the apology to the university and city for "the misunderstandings and anxiety stemming from Marcus's involvement in a violent incident."
"Upon learning more details of the case, and while racial slurs served to fuel the violence, Marcus now knows that his account of events was inconsistent with police findings, in part due to alcohol being involved, his embarrassment at his behavior, as well as the injuries he sustained," the statement said. "It was concluded that this incident was not a hate crime as originally believed, but rather a case of excessive underage drinking and extremely poor judgment on the part of many people, Marcus included."
Owens' attorney, Leon Spies, said his client intends to remain enrolled and "aspires to have a successful academic career at the University of Iowa."
"I think the outcome for all is fair," he said.
It's unclear whether Owens may face university sanctions. University President Bruce Harreld said the school would provide "support and assistance" to all involved. A university spokeswoman said Iowa is investigating whether students violated the code of conduct; the outcome will be confidential.
Investigators said the fighting was sparked by a disagreement between students from different fraternities, including one where Owens was a pledge.
Bar surveillance video showed a suit-wearing Owens among a large group of people shoving each other inside the bar at 1:32 a.m. Owens pushed and punched another person outside the bar entrance minutes later.
A bar employee removed Owens and stopped him when he tried to re-enter the premises. Owens and his friends later "beat the snot out of" a person who had called another man a racial epithet, Kelsay said. That attack was also captured by a surveillance camera.
Owens later grabbed and attempted to punch another person, police said. The two fought on the ground, and that's when Owens was injured, police said.
Owens received treatment at a hospital, where a blood draw showed he was still intoxicated three hours later. The next day, he made his report to police.
Harreld said the case had been difficult for the university.
"Regardless of the outcome, this incident highlighted a level of fear and distrust on our campus that must and will be addressed," Harreld said.
* * *
Source: Chicago Tribune and fakehatecrimes.org
* * *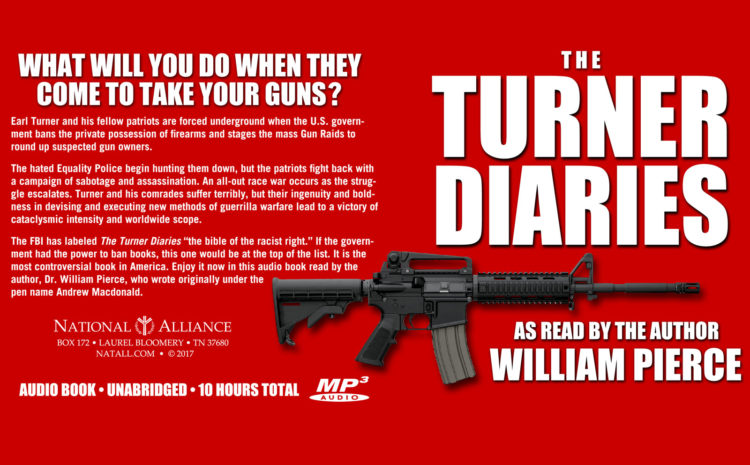 Listen: Turner Diaries commercial
OUR NEW, remastered audio book edition of The Turner Diaries read by the author, Dr. William Pierce, is now available. You can get your copy now — the CDs are are shipping as soon as orders come in.
The original recordings, made by Dr. Pierce and Kevin Strom on reel-to-reel tape in 1995, had been digitized in the early 2000s, but that digitization process was primitive compared to what we are capable of today; we have remastered this important work using the latest software — and we did it the careful, slow, difficult, craftsman-like way — the way Dr. Pierce would have wanted it.
We are proud to offer you the result, which can be ordered online via http://natall.com/td or by postal mail from National Alliance, Box 172, Laurel Bloomery TN 37680 USA. The fidelity of the disc is excellent: On a good speaker system, it sounds as if Dr. Pierce is with you, reading his book to you personally. There is nothing quite like hearing the man who created The Turner Diaries read it to you himself. And, by purchasing this mp3-CD, you will be supporting the important work of the National Alliance.
Listen: Turner Diaries commercial
* * *