NY Settles with White Student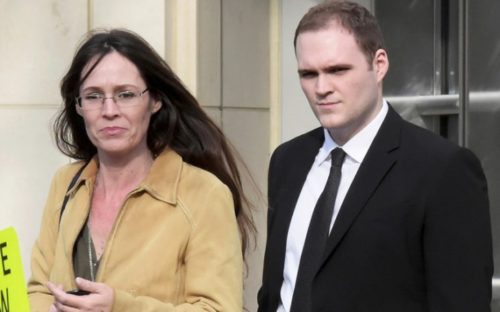 THE New York school district being sued by a white former school pupil for refusing to prevent racially-motivated attacks has agreed to settle out of court rather than go to trial. (ILLUSTRATION: Giovanni Micheli and his mother leave court after being offered an out-of-court settlement.)
The decision by the Long Island Brentwood School District to settle without even posing a defense is being widely interpreted as an attempt to hush up the case to prevent similar legal actions being instituted by other whites.
According to a report in the New York Post, the school district "accused of inadequately addressing a white student's claims of racial harassment as a minority in a predominantly Hispanic and black school"  abruptly settled the case for an undisclosed amount.
As originally reported, pupil Giovanni Micheli was repeatedly attacked, assaulted, and abused for being white in the majority nonwhite school. Repeated requests for help directed to the school authorities by Giovanni and his parents were ignored by the school staff.
After the first day of opening arguments in the Brooklyn Federal Court this week, defense attorney Jack Shields made the confidential offer to Giovanni and his parents inside a sealed courtroom.
"We're very happy with the settlement," Micheli's mom, Michelle Micheli, said outside court.
Giovanni Micheli declined to comment on the case but smiled widely as he left the courthouse.
In his suit, Micheli said that he was repeatedly called "white boy" and "cracker" by black students during the 2008 and 2009 school years and was physically assaulted on several occasions.
His attorney, Wayne Schaefer, told jurors in his opening statement Monday that administrators barely addressed the problem because Micheli was a minority in the 4,000 student school.
"Our claim is that there was deliberate indifference because he was a Caucasian student complaining in a district where Caucasians are a minority," Schaefer said Monday.
District officials rebuffed his requests for a transfer to another district, reasoning that they would have to make the same arrangement for all white students if they accommodated him.
After a battery of psychological evaluations, the district invited Micheli back to school and suggested he be put on medication to better deal with the environment. But his parents opted to take him out of the school.
* * *
Source: New Observer
* * *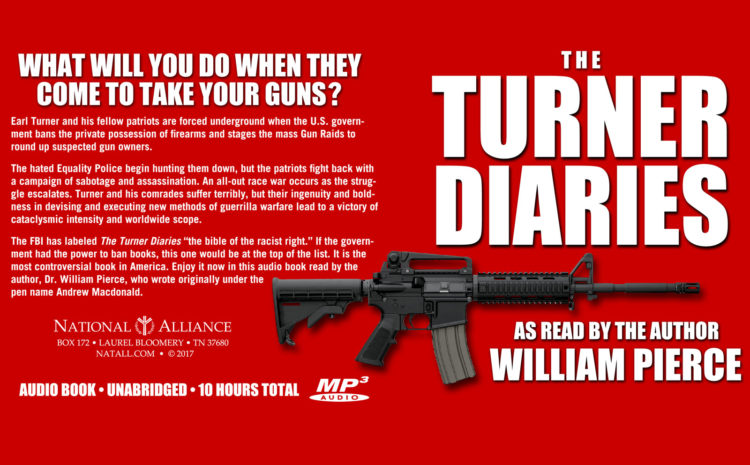 Listen: Turner Diaries commercial
OUR NEW, remastered audio book edition of The Turner Diaries read by the author, Dr. William Pierce, is now available. You can get your copy now — the CDs are are shipping as soon as orders come in.
The original recordings, made by Dr. Pierce and Kevin Strom on reel-to-reel tape in 1995, had been digitized in the early 2000s, but that digitization process was primitive compared to what we are capable of today; we have remastered this important work using the latest software — and we did it the careful, slow, difficult, craftsman-like way — the way Dr. Pierce would have wanted it.
We are proud to offer you the result, which can be ordered online via http://natall.com/td or by postal mail from National Alliance, Box 172, Laurel Bloomery TN 37680 USA. The fidelity of the disc is excellent: On a good speaker system, it sounds as if Dr. Pierce is with you, reading his book to you personally. There is nothing quite like hearing the man who created The Turner Diaries read it to you himself. And, by purchasing this mp3-CD, you will be supporting the important work of the National Alliance.
Listen: Turner Diaries commercial
* * *