Human Sacrifice: Still Practiced in Black Africa
African student in US states it is an "accepted practice" — as is the stoning to death of "witches."
TEACHING ANTHROPOLOGY at a small college, I sometimes have foreign students talk to my class about their native cultures. West African students are in great abundance. Often their speech is so poor and disorganized that, interesting as they sometimes are, I am inclined to doze. (ILLUSTRATION: More information on human sacrifice in modern Africa can be obtained from the article Uganda: In the Land of Human Sacrifice from Newstime Africa)
Nevertheless, one day during an otherwise incomprehensible talk I suddenly became aware that this particular Nigerian student was talking about human sacrifice. He mentioned it only briefly, but I made him explain himself at greater length. Once on a country road he said he had come across a body ritually decorated. All the traffic was making a wide detour.
I asked other African students about this. One said that in his town human sacrifice for religious purposes was an accepted practice. Another admitted that the public officials in his area once announced that after 10 p.m. anyone caught in the streets would be ritually sacrificed. Witchcraft is another thing. Virtually all my African students, whether or not they have been raised as Christians, believe in witchcraft. A Nigerian student told me he had himself seen a "witch" stoned to death. She was a witch because she had made a confession to that effect.
EDITOR'S NOTE: For those sheltered souls who find this level of primitivism hard to believe, steel your souls and watch this incredible video documentary about modern Liberia, at the end of the article "Cannibalism Still Stalks African Conflicts."
* * *
Source: Instauration magazine, September 1978
* * *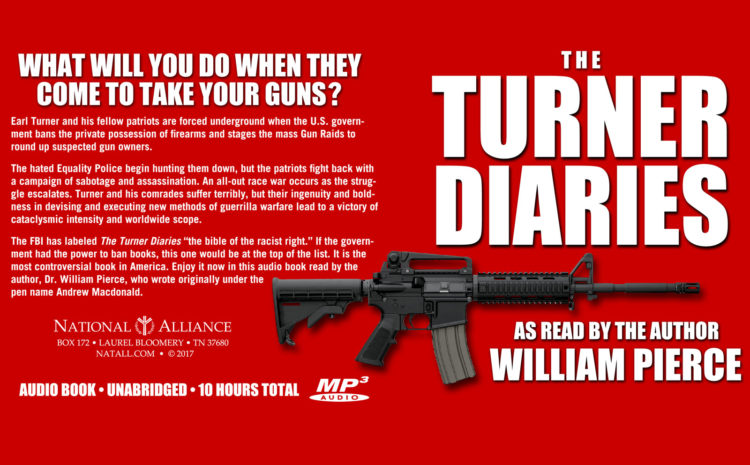 Listen: Turner Diaries commercial
OUR NEW, remastered audio book edition of The Turner Diaries read by the author, Dr. William Pierce, is now available. You can get your copy now — the CDs are are shipping as soon as orders come in.
The original recordings, made by Dr. Pierce and Kevin Strom on reel-to-reel tape in 1995, had been digitized in the early 2000s, but that digitization process was primitive compared to what we are capable of today; we have remastered this important work using the latest software — and we did it the careful, slow, difficult, craftsman-like way — the way Dr. Pierce would have wanted it.
We are proud to offer you the result, which can be ordered online via http://natall.com/td or by postal mail from National Alliance, Box 172, Laurel Bloomery TN 37680 USA. The fidelity of the disc is excellent: On a good speaker system, it sounds as if Dr. Pierce is with you, reading his book to you personally. There is nothing quite like hearing the man who created The Turner Diaries read it to you himself. And, by purchasing this mp3-CD, you will be supporting the important work of the National Alliance.
Listen: Turner Diaries commercial
* * *