The Great Equalizer
EDITOR'S NOTE: I do not accept the impossibility theorem advanced here because I believe that the current power structure is far from permanent. But it is wise, in this world of deceit, to be aware of where lie the real levers of power.
by Raymond Martin
"God made men. Sam Colt made them equal."
THERE IS ALMOST no chance of successfully founding a White nationalist political entity within the United States. There is no way Jews or the US government would allow it, and there aren't enough like-minded people to accomplish it anyway. People who believe such a thing is possible are out of touch with what most Whites actually think because of how bad things have gotten.
I would love to be wrong. But it just seems flat out impossible. 
The way I see it, what really matters in today's world is nuclear weapons. They are now the real "equalizer." I'm surprised one doesn't see more discussion of this, though William Pierce was clearly well aware of their importance.
What I mean is this: For a White state to survive, it would have to either already have nukes (i.e., prior to becoming White-ruled) or quickly acquire them. This is the real lesson of the Iraq War.
What if the leader of Hungary, for example, were to suddenly become a White nationalist and transform Hungary into a White state? The new nation would be on borrowed time before the Jews destroyed it.
By contrast, if France suddenly became a White state (this is impossible; it is merely a thought experiment), it would be a very different situation because France has nukes.
Nuclear weapons are not only the ultimate power (as everyone knows), they are also in many ways the only real power today, by which I mean that nuclear weapons are the only effective deterrent against global Jewish power.
This is the real reason they don't want Iran to get nukes. Because if Iran does, then it cannot be invaded and destroyed. 
* * *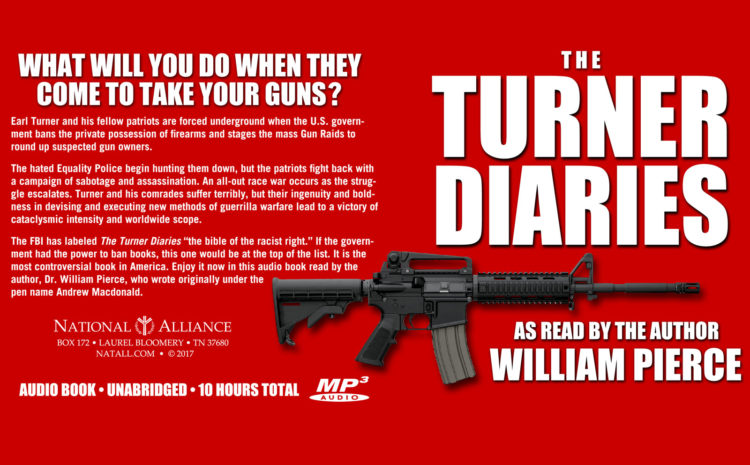 Listen: Turner Diaries commercial
OUR NEW, remastered audio book edition of The Turner Diaries read by the author, Dr. William Pierce, is now available. You can get your copy now — the CDs are are shipping as soon as orders come in.
The original recordings, made by Dr. Pierce and Kevin Strom on reel-to-reel tape in 1995, had been digitized in the early 2000s, but that digitization process was primitive compared to what we are capable of today; we have remastered this important work using the latest software — and we did it the careful, slow, difficult, craftsman-like way — the way Dr. Pierce would have wanted it.
We are proud to offer you the result, which can be ordered online via http://natall.com/td or by postal mail from National Alliance, Box 172, Laurel Bloomery TN 37680 USA. The fidelity of the disc is excellent: On a good speaker system, it sounds as if Dr. Pierce is with you, reading his book to you personally. There is nothing quite like hearing the man who created The Turner Diaries read it to you himself. And, by purchasing this mp3-CD, you will be supporting the important work of the National Alliance.
Listen: Turner Diaries commercial
* * *