Spacex Releases Falcon 9 Video
ELON MUSK'S Spacex Corporation has just released a short video showing dramatic footage of their Falcon 9 rocket successfully launching into orbit, deploying multiple satellites, and then its main section returning safely to Earth in December, ready — unlike previous launch vehicles for spacecraft — to be launched again and reused.
It is an inspiring sight — and it is especially inspiring to see the high racial quality of the launch team and the enthusiasm of the many spectators to this achievement. Mission Control (as a result of the necessarily highly selective requirements that must be met to be useful there) had the look of the Old America reborn — and the future America that we hope for.
This was the Falcon 9's first successful first-stage ground landing, and it took place on December 21, 2015. An earlier flight was partially successful, with the first stage guided to its destination (a drone ship), but landing too hard to be reused. The December flight, a full success, returned to a terrestrial landing field.
The first versions of the Falcon rocket were developed for NASA. Spacex estimated that development costs were on the order of $300 million; and NASA stated that if traditional contracting practices had been followed, development costs would have been $3.6 billion.
From Spacex:
Falcon 9 is a two-stage rocket designed and manufactured by SpaceX for the reliable and safe transport of satellites and the Dragon spacecraft into orbit. As the first rocket completely developed in the 21st century, Falcon 9 was designed from the ground up for maximum reliability. Falcon 9's simple two-stage configuration minimizes the number of separation events — and with nine first-stage engines, it can safely complete its mission even in the event of an engine shutdown.
Falcon 9 made history in 2012 when it delivered Dragon into the correct orbit for rendezvous with the International Space Station, making SpaceX the first commercial company ever to visit the station. Since then SpaceX has made a total of three flights to the space station, both delivering and returning cargo for NASA. Falcon 9, along with the Dragon spacecraft, was designed from the outset to deliver humans into space and under an agreement with NASA, SpaceX is actively working toward that goal.
Spacex predicts that, after a period of innovation and development, the Falcon will achieve high reliability based on the philosophy that "through simplicity, reliability and low cost can go hand-in-hand." There is tough competition out there, though — from other White scientists, as it happens: the Russian Soyuz rockets have more than 1,700 launches to their credit, far more than any other launch vehicle, and a very high success rate.
* * *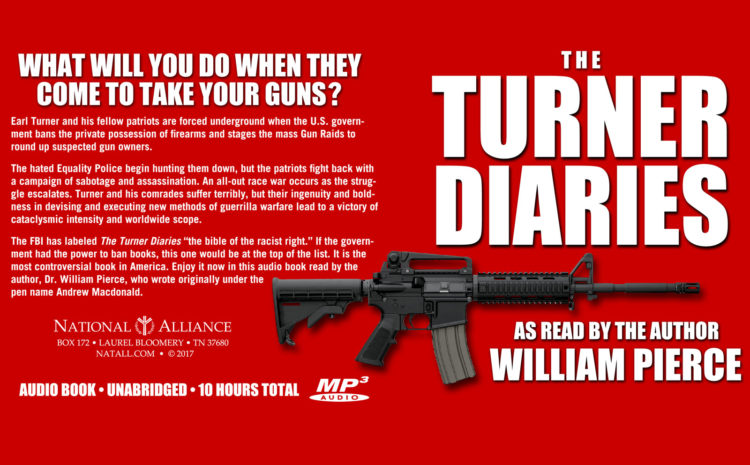 Listen: Turner Diaries commercial
OUR NEW, remastered audio book edition of The Turner Diaries read by the author, Dr. William Pierce, is now available. You can get your copy now — the CDs are are shipping as soon as orders come in.
The original recordings, made by Dr. Pierce and Kevin Strom on reel-to-reel tape in 1995, had been digitized in the early 2000s, but that digitization process was primitive compared to what we are capable of today; we have remastered this important work using the latest software — and we did it the careful, slow, difficult, craftsman-like way — the way Dr. Pierce would have wanted it.
We are proud to offer you the result, which can be ordered online via http://natall.com/td or by postal mail from National Alliance, Box 172, Laurel Bloomery TN 37680 USA. The fidelity of the disc is excellent: On a good speaker system, it sounds as if Dr. Pierce is with you, reading his book to you personally. There is nothing quite like hearing the man who created The Turner Diaries read it to you himself. And, by purchasing this mp3-CD, you will be supporting the important work of the National Alliance.
Listen: Turner Diaries commercial
* * *