38-year-old charged with "public denial of genocide" and could face 400 days in jail or hefty fine
AN HUNGARIAN man is facing a possible jail term over "Holocaust denial" comments on Facebook, a sentence handed down under a 2010 law banning "public denial of genocides."
The man, identified in a court ruling as Norbert Juhos (pictured), 38, made the comments on Facebook last August in response to an article published on the social media site by a Jewish group called TEV (Action and Protection Foundation).
Mr. Juhos uttered only three sentences in the post, but because he allegedly "used anti-Semitic insults" and "a term which questioned the veracity of the Holocaust" (Hoaxocaust?) he is facing severe punishment and is now classified as a criminal for life.
According to the court ruling seen by AFP on Wednesday, the defendant was ordered to pay a fine of around 800,000 forints ($2,700/2,500 euros) or spend 400 days in jail.
Details of his sentence, handed down on November 27, only emerged after it was published by TEV, which had sent a written request to the court in Esztergom, north of Budapest.
TEV's Tibor Pasztor told AFP Wednesday that the punishment was the toughest yet under the 2010 law that renders denial of "genocides committed by national socialist or communist systems" punishable with prison terms of up to three years.
Since 2010, the courts have opted to send offenders to visit Holocaust-related museums or read books on the subject rather than hand out jail terms or heavy fines.
This latest case was opened after TEV filed a criminal complaint. So far, the group has reported around 50 people for alleged Holocaust denial, with five cases reaching a verdict.
"Freedom of speech cannot be unlimited if it infringes another person's rights, including those who are affected by the Holocaust," Pasztor told AFP. …
* * *
Source: Agence France Press and Israel National News
* * *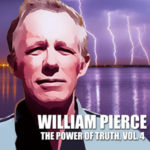 We're now up to Volume 4 of our CD series
William Pierce: The Power of Truth
, which features the very best speeches of National Alliance founder Dr. William Luther Pierce — 20 speeches on each mp3-CD, more than 24 hours total listening time in the series so far. Each CD is $16 and you can order via our postal address or at
http://natall.com/cd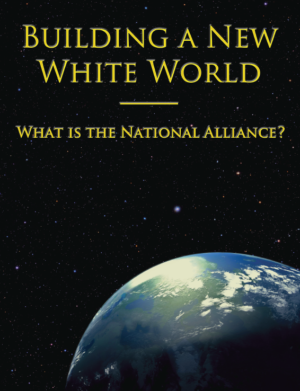 Our beautiful, full-color glossy magazine-style introduction to the National Alliance, Building a New White World, is one of the most powerful ways to introduce your friends and family to the ideas and ideals they need to understand and appreciate in order to take part in shaping a White future. Only the National Alliance has a coherent plan to bring that future into being — and Building a New White World presents that plan impressively, in a way that can never be forgotten. One copy is just $3, ten copies just $15, and additional quantity price breaks are available. Write to our postal address or order online at http://natall.com/booklet
Every day National Alliance members spread the word about the Alliance by distributing our professional, attractive, and colorful National Alliance business cards. On the obverse is the National Alliance logotype and contact information and the words "Toward a New Consciousness; a New Order; a New People." On the reverse are printed the principles in which we believe. Place them on bulletin boards, in select books at public libraries, or hand them out at public events. You can receive 50 business cards for $4, 100 for $6, and 500 cards for $25. Write to our postal address or visit http://natall.com/cards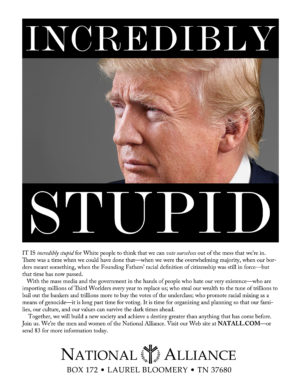 Several excellent National Alliance fliers, with different themes, have been produced and are now available for you to freely download and print — either on your own printer, or at your local print shop in mass quantities. There's our flier on the utter stupidity of hoping for political change through the ballot box; our "They Hate Us" flier on the genocidal intentions of our enemies; our famous "Love Your Race" flier; and many more. Post them — hand them out — fly them on helium balloons — mail them to opinion leaders — everywhere! Make our message impossible to ignore in your state, city, and neighborhood. Just visit http://natall.com/fliers for the complete downloadable National Alliance flier collection.
Our postal address is Box 172, Laurel Bloomery TN 37680 USA.
* * *
Related Articles: