Italy Refuses to Join US Coalition in Syria
ITALY HAS NO intention of joining a U.S.-led coalition that is attacking Islamic State targets in Syria, Italian Prime Minister Matteo Renzi said on Sunday, warning that the air campaign would only add to chaos in the region. (ILLUSTRATION: Italian Prime Minister Matteo Renzi makes a speech on the theme "A response to terror" during a news conference in Rome in this November 24, 2015 file photo.)
Centre-right opponents have urged Renzi to follow in the footsteps of Britain, which last week agreed to take part in missions over Syria, but Renzi told Corriere della Sera newspaper that Italy would remain on the sidelines.
"If being a protagonist means playing at running after other people's bombardments, then I say 'no thank you'," Renzi was quoted as saying.
"Italy's position is clear and solid. We want to wipe out terrorists, not please the commentators. The one thing we don't need is to multiply on-the-spot reactions, without a strategic vision," he said.
He compared the Syria bombardment to NATO's 2011 air assault against Libya, which helped rebels topple Muammar Gaddafi and then ushered in more than four years of civil strife.
He said Italy had been pushed by the then-French President Nicolas Sarkozy to take part in the air strikes. "Four years of civil war in Libya show it was not a happy decision. Today there needs to be a different strategy."
He added: "The one thing we cannot allow ourselves is a repeat of Libya."
The United States and its allies have been bombing Islamic State in Iraq and Syria to try to drive the group from swaths of territory it controls in both countries.
In the wake of the Nov. 13 attacks in Paris, which killed 130 people, the British parliament voted last week to extend its military missions to include raids over Syria.
Renzi said Italy had already committed troops to numerous peacekeeping missions and military operations around the world, including in Afghanistan, Kosovo, Lebanon and Somalia.
The centre-right Forza Italia party said Italy's refusal to heed France's recent call for help in the fight against Islamic State would only isolate Rome.
"The truth is that Renzi's Italy counts for very little on the international stage despite the fact that our military is involved in highly delicate operations, because (the prime minister) is incapable of presenting a valid, coherent strategy," said Forza Italia senator Lucio Malan.
* * *
Source: Reuters
* * *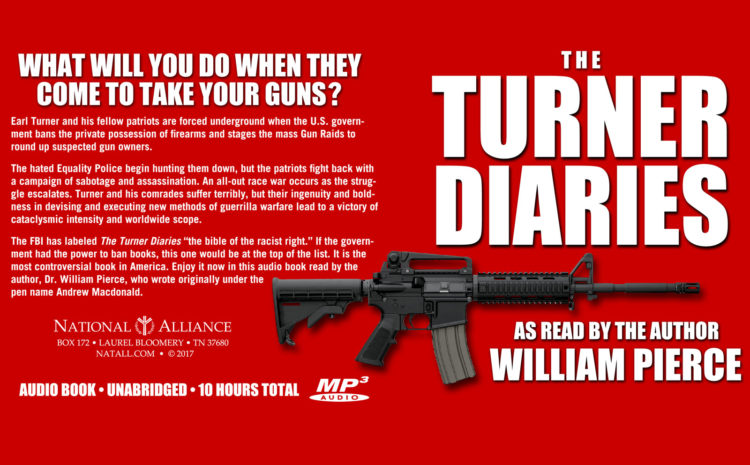 Listen: Turner Diaries commercial
OUR NEW, remastered audio book edition of The Turner Diaries read by the author, Dr. William Pierce is now available. You can get your copy now — the CDs are are shipping as soon as orders come in.
The original recordings, made by Dr. Pierce and Kevin Strom on reel-to-reel tape in 1995, had been digitized in the early 2000s, but that digitization process was primitive compared to what we are capable of today; we have remastered this important work using the latest software — and we did it the careful, slow, difficult, craftsman-like way — the way Dr. Pierce would have wanted it.
We are proud to offer you the result, which can be ordered online via http://natall.com/td or by postal mail from National Alliance, Box 172, Laurel Bloomery TN 37680 USA. The fidelity of the disc is excellent: On a good speaker system, it sounds as if Dr. Pierce is with you, reading his book to you personally. There is nothing quite like hearing the man who created The Turner Diaries read it to you himself. And, by purchasing this mp3-CD, you will be supporting the important work of the National Alliance.
Listen: Turner Diaries commercial
* * *