Debate: Often, It's Not About Facts
The joy of challenging the undeserved intellectual hegemony of the Left
by Raymond Martin
EXPOSING THE DEEP metaphysical premises of social and political movements is an excellent way to proceed for all of us who reject the prevailing order in every possible way.
It is also a good approach to many types of debate, even debate that often on the surface appears to be empirical or in some way "about facts," precisely because what is often really at issue has nothing to do with facts but is really about fundamental assumptions.
I figured this out to an extent in my own youthful way back in college when I would debate various issues with many of the people I knew and I would often annoy them by simply saying, "We have different fundamental philosophical convictions. It is these different convictions that are responsible for our different views on the matter."
I learned this while arguing with leftists, which I still did back in those days, but which I eventually stopped doing since arguing with leftists makes about as much sense as trying to show artwork to the blind.
Anyway, I would then typically end up shocking them further by baldly stating (depending on the issue at hand), something like: "We will never agree on this issue. You believe in equality.  I do not. You believe that equality exists in Nature. I do not. This is an empirical error on your part. But beyond this, you believe that equality should exist in Nature and that equality is therefore the greatest moral imperative. I do not believe this either. And this is a fundamental philosophical difference."
I remember how I would really surprise some of them, especially those who didn't know me very well yet. I suppose that I surprised them in two ways: first, because they were probably shocked that here was a guy arguing for what they at the time all referred to as my "elitism" (they called it "elitism" because they had no proper category in which to place my thought, since they'd only ever encountered leftism in their classes, so they didn't even know what non-leftist thought was, other than The Enemy) and second, probably, because many of them most likely assumed I was some kind of joker uninterested in intellectual stuff — because I played in a rock band at the time!
What irked all of them, though, was that I challenged and rejected their fundamental assumptions. Without sounding too sadistic, I used to relish doing it, actually!
* * *
Source: Raymond Martin
* * *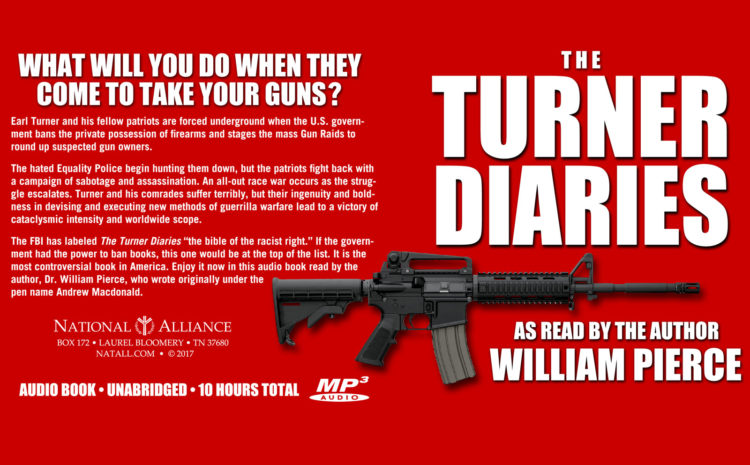 Listen: Turner Diaries commercial
OUR NEW, remastered audio book edition of The Turner Diaries read by the author, Dr. William Pierce, is now available. You can get your copy now — the CDs are are shipping as soon as orders come in.
The original recordings, made by Dr. Pierce and Kevin Strom on reel-to-reel tape in 1995, had been digitized in the early 2000s, but that digitization process was primitive compared to what we are capable of today; we have remastered this important work using the latest software — and we did it the careful, slow, difficult, craftsman-like way — the way Dr. Pierce would have wanted it.
We are proud to offer you the result, which can be ordered online via http://natall.com/td or by postal mail from National Alliance, Box 172, Laurel Bloomery TN 37680 USA. The fidelity of the disc is excellent: On a good speaker system, it sounds as if Dr. Pierce is with you, reading his book to you personally. There is nothing quite like hearing the man who created The Turner Diaries read it to you himself. And, by purchasing this mp3-CD, you will be supporting the important work of the National Alliance.
Listen: Turner Diaries commercial
* * *